Altrincham FC Ladies
---
---

Alty Ladies line up against Northwich Vixens, 30 October 2016
Altrincham FC runs an open-age Ladies' team which plays (2017/18) in the North West Regional League, Division One South.
And from 2017-18 a Ladies Development team has also been introduced.
The venue for home matches is normally Mersey Valley Sports Club, Banky Lane, Sale, M33 5SL. Matches are normally played on Sundays, k.o. 2pm. Spectators are welcome at all games. For details of matches and times, please see the fixtures list below.
There is a separate website for the Altrincham FC Juniors and social activities.
| | | | |
| --- | --- | --- | --- |
| Keith Edleston | Phil Taylor | John McManus | Dave Grundy |
Manager -

Keith Edleston

Administration/Coach - Phil Taylor
Fitness Coach - John McManus
Coach - Dave Grundy
Recruitment
Aspiring lady footballers are invited to e-mail the Ladies' Team Manager, Keith Edleston, giving details of their footballing background.
---
24 September 2017
Keith Edleston, manager of the Altrincham Ladies reports on his side's 1-3 defeat on Sunday away to Crewe Alexandra Ladies.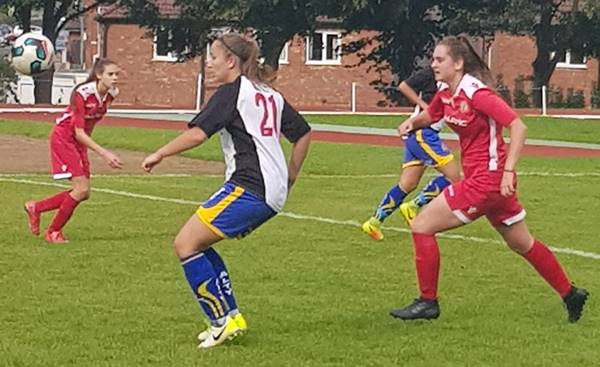 Above: Hannah Shufflebotham in action in the game.
He writes, "In a game where we played really well, with plenty of positives, it's the same old adage 'If you don't take your chances (and we had many many chances) you won't win a game!'
We started well and took the lead when Hannah Shufflebotham won a 50/50 ball in midfield and laid the ball to Meg Rowley, who instantly squared for Laura Kelly to slide the ball under the advancing keeper to give us the lead. A lead that, to be fair, we looked comfortable with, although Crewe, to be fair, are a good side who play the game well and caused us some concern at times.
Approaching half-time a needless foul gave Crewe a direct shot on goal, which debutant keeper Esther Henandez pushed onto the bar but a Crewe player reacted fastest and put it in the goal.
Halftime 1-1.
The second half was going much the same way, with us having possesion and Crewe relying on the breakaway. Unfortunately, twice they capitalised to make it 1-3. We still kept going and more chances were missed by us and it just wasn't to be and the game ended with a loss.
However, the save of the game was left to the end, when a Crewe player let fly from 20 yards out, to which Esther flew to her right and tipped the ball over the bar. Well done to Crewe and good luck for the season.
For us, it's shooting practice at training on Thursday girls.
Full time at The Cumberland Arena: Crewe Alexandra Development 3 Altrincham FC Ladies 1 (Laura Kelly)
Starting 11: Esther Hernandez Rodriguez, Bliss Molyneaux, Louise Edleston, Aimee Hopkinson, Kye Brown, Gail Simpson, Hannah Shufflebotham, Jess Hartop, Megan Rowley, Laura Kelly, Kate Bryan. Subs: Georgia Ashton, Melissa Williams, Sadie Powell"
The Ladies are sixth in the league table. Their next fixture is at home (Mersey Valley) to West Didsbury & Chorlton Ladies on Sunday, 1 October.
---
21 September 2017
Courtesy of Alty Ladies' manager Keith Edleston, we have his Ladies' Development Team colleague, Steve Mackay's report on last Sunday's Chester City v Altrincham Ladies' Development Team match.
"Going in to today's game we were missing four key players due to recent injuries and, more importantly, this included our keeper. A reshuffle was needed prior to kick off, which would test the team.
It was a scrappy opening affair with neither team really testing the keepers and this theme continued throughout the half. Midway through, Chester were awarded a corner. As the ball was played in, several Alty players including the stand-in keeper lost the flight of the ball, due to the glaring sunshine, this simply allowed an easy tap-in for Chester.
Alty regrouped at the break and, right from the kick-off, we started to dominate the game but Chester's defence held strong. Alty continued to keep the pressure on and, not long into the second half, we made the breakthrough, thanks to Sabrina. As the game continued, it was plain to see Chester were tiring after being put under a lot of pressure from Alty. We continued to push forward to find the winner when there was a rare attack from Chester, which caught us out and they scored.
Alty's players never gave up and, once again, they kept pushing and pushing but, once again, Chester's defence held strong. As the game entered into added time, Alty were awarded a corner Initially, the set piece came to nothing but Chester defended it poorly, which allowed the loose ball to land near Natalie who blasted it in the top corner", 2-2.
---
14 September 2017
Altrincham FC Ladies' manager, Keith Edelston's headline for his brief report on his side's game last Sunday is "Super Rowley on fire as she nets FOUR for the Lady Robins!". Keith continues...
"Last Sunday saw the Ladies' first team welcome local rivals Northwich Vixens down to Mersey Valley in a fixture that had to be reversed due to their Lostock Gralam pitch having to have remedial repairs in one goalmouth.
On an inclement day, where we had sunshine, drizzle then heavy rain the game was entertaining, to say the least, for the sizeable crowd that had come down to watch our first league game of the season.
We started with a 3-4-1-2 formation with the emphasis for the players to take the game to the Vixens. This game also had some extra spice as we had signed right-back Aimee Hopkinson from them in the close season.
Some great football was on show throughout the team and we created plenty of chances for the forwards but they were saved or just missing the target. Just as we thought 'maybe one of those games', Megan Rowley scored the first goal of the match. She was on fire, and with prompting from the midfield and her partner up front Laura Kelly, they pulled Vixens everywhere and Megan scored two more for her hat-trick to make the half-time score 3-0.
The second half started much the same and, within five minutes, that girl Rowley latched on to another fine ball and scored the goal of the game that belied her young age. As she approached the onrushing Vixens keeper, she calmly lifted the ball over the keeper's head and into the goal to make it FOUR goals.
On 70 minutes we brought Megan off to rousing support from the home fans and Kate Bryan replaced her. On 75 minutes there was a superb mazy run by Georgia Plant, beating three players, before she squared the ball for Kate to run on, round the keeper and slot home to make it five.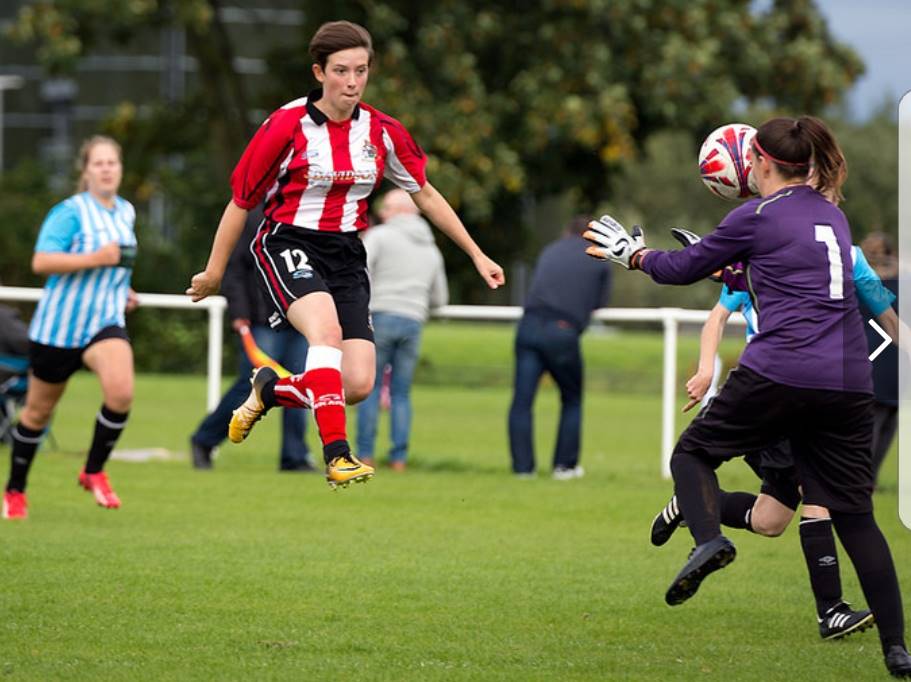 Above: Megan Rowley nets her fourth goal. Image courtesy of Mike Ripley
The game itself was a good one to watch as, although we scored five, Vixens contributed a lot to the game and we wish them good luck for the rest of the season.
Player of the Match had to be young Megan who had an outstanding game but she was quick to heap praise on the rest of the team which she said 'made her job easy'.
Final score was...
Altrincham FC Ladies 5 Northwich Vixens 0
Thanks go to all the supporters who came to support us on Sunday, we loved seeing you there. There is no game for the girls this Sunday (unless the league throw a surprise in), so it's back to action a week on Sunday as we travel over Cheshire to face Crewe Alexandra LFC.
The Gaffer".
---
11 September 2017
Alty Ladies beat Northwich Vixens 5-0 on Sunday afternoon and mow lie third in the North West Women's Regional League Division One South. And at the same time the newly formed development Team were winning their inaugural home fixture 3-1 against Chester City Ladies. More on these matches to follow...
CREWE ALEXANDRA DEVELOPMENT 0 - 9 CURZON ASHTON FC (TAMESIDE) WOMEN
FC UNITED OF MANCHESTER 17 - 0 CITY OF LIVERPOOL
LIVERPOOL MARSHALLS FEDS RESERVES 3 - 1 WARRINGTON WOLVERINES
Upcoming matches for Alty Ladies are...
24/09/17 CREWE ALEXANDRA DEVELOPMENT v ALTRINCHAM FC LADIES
1/10/17 ALTRINCHAM FC LADIES v WEST DIDSBURY AND CHORLTON
---
6 September 2017
Keith Edleston, manager of Altrincham FC Ladies, informs us that "This Sunday's away game has been reversed ,as requested by our opponents Northwich Vixens, due to repairs on their pitch. The game is now to be played at Mersey Valley Sports Club, k.o. 2pm and all the usual facilities (food & drink) will be available from the clubhouse.
An added bonus is that our new Development Team has its first game at Mersey Valley at the same time on Pitch 2, so you get TWO games at the same time! Come down and support the girls in red and white!
---
4 September 2017
FC United of Manchester report on their 13-1 victory over Altrincham FC Ladies in the SSE Women's FA Cup on Sunday.
---
1 September 2017
On Sunday (3rd), Altrincham FC Ladies' 2017-18 season kicks off. Rather than the originally scheduled league match against Liverpool Marshalls Feds, Alty Ladies will now be travelling to Broadhurst Park for their debut match in the SSE Women's FA Cup against FC United of Manchester Ladies (k.o. 2pm). Alty manager Keith Edleston says "This is our first-ever entry into this prestigous competition since we started up as a club and we are all looking forward to it". He added, "If you can make it over there, to cheer the girls on, that would be fantastic".
24 July 2017
Altrincham FC Ladies' 2017-18 fixtures in the North West Women's Regional League Division One South have been released and are here. The fixtures will also be added to this website's Ladies Fixtures pages shortly.
---
---
25 July 2017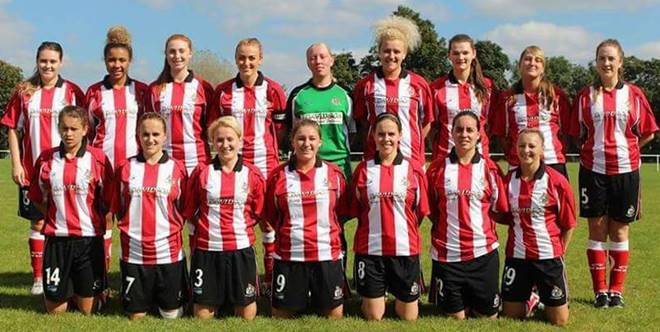 Manager of the Altrincham FC Ladies team, Keith Edleston reports that, "Due to her bad shoulder injury and a subsequent operation, our Manx midfielder, Anna Dillon, has had to retire from football and any contact sport. She will still stay a big supporter of the team as she has really enjoyed her stay, (however brief), with us and hopes she has made some good friends this side of the water.
Anna (pictured front row, far right in the above image) has also said she will be coming over from her home in Foxdale in the Isle of Man to watch and support the girls in some of this seasons games. I have thanked Anna for all her commitment, her desire to want to play for us and her friendship, as I know we will remain friends for life. Good luck for the future Anna, cheers girl!"
---
24 July 2017
Altrincham FC Ladies' 2017-18 fixtures in the North West Womens Regional League Division One South have been released and are here. The fixtures will also be added to this website's Ladies Fixtures pages shortly.
---
23 July 2017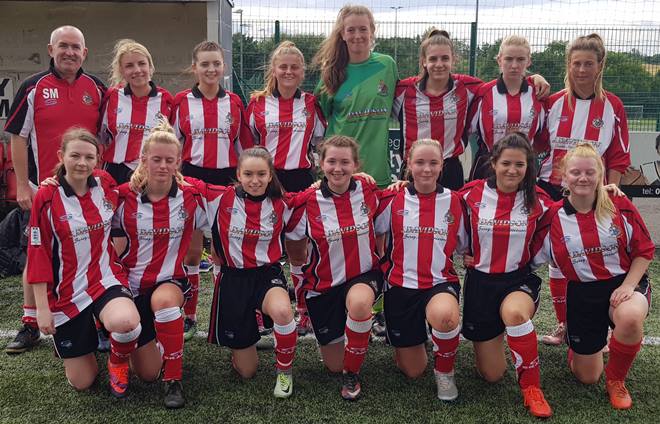 Keith Edleston, manager of Altrincham FC Ladies reports from Sunday's first game for the newly formes Ladies' Development Team, who are pictured above.
Keith writes, "Well done to the development team today in their firsst ever game at senior level, versus Stockport County. In an even game the hosts just edged out a young Robins' team which certainly played its part in an entertaining pre-season opener. A fine goal from Courtney Williams equalised the County opener but a second goal just wouldn't come and the final score ended...
Stockport County Dev. Team 2 Altrincham DLC Dev. Team 1
Well done to all today!
The Gaffer".
---
18 July 2017

Manager of the Altrincham FC Ladies' team, Keith Edleston, is delighted to report that "Last Thursday saw the launch of our new Development Team for the Ladies section of the club. This has been 18 months in the making, with a lot of hard work and endless meetings. But now, as the junior U17 team has finished its season, we can incorporate them along with some other players into our section with the attraction of adult football.
The Development Team, which will be managed by Steve Mackay, will play in Division 2 of the Cheshire Women's & Youth League. Any players who wish to come down and trial for either team please contact either me, Keith Edleston or Steven Mackay.
You can follow the progress of both teams throughout the coming season either, here, on the club main website or on Twitter @Altrinchamfcl or on Facebook".
---
26 June 2017
Manager of Altrincham FC Ladies, Keith Edleston, reports that "New signing Aimee Hopkinson put pen to paper yesterday and will join up with her new teamates for the coming preseason. Aimee, who is a two-footed versatile defender can play anywhere across the back four, joins us from Northwich Vixens where she was an ever present in the side. Her playing career has previously been at Macclesfield Town LFC and Stockport County LFC. I'm sure she will be a great aquisition to the squad. Welcome to the club, Aimee!"
---
20 June 2017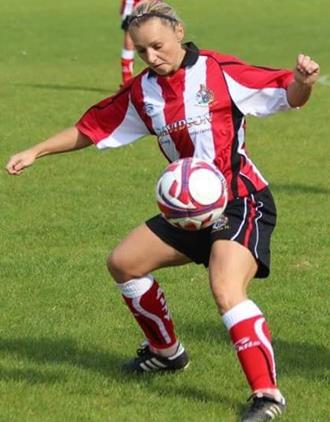 Keith Edleston, manager of the Altrincham FC Ladies, tells us that "All the squad would like to wish good luck to our midfielder, Anna Dillon (above), who has been selected to represent the Isle of Man in the Island Games in Gotland this coming weekend. Anna has just returned to action from an operation on a serious shoulder injury and we wish her and all her team well in this prestigious competition. (The Island Games are basically all the small islands around the world competing in Olympic-style competitions). We'll be following her and the results closely via our Manx roving reporter Paul Hatton.
Good luck Anna, go smash it!"
---
1 May 2017
Yesterday, the FA reported that Altrincham FC Ladies had lost 2-4 at Curzon Ashton on Sunday and that, therefore, they had finished seventh in the league table. In fact, Alty won 4-2, thanks to goals by Laura Dodds (2), Jade Hesketh and Kate Bryan.
The FA has now corrected its error as and revised its table to confirm that Alty Ladies actually finished sixth in the North West Womens Regional League Division One South.
Last Thursday, the champions, Merseyrail Bootle, beat Altrincham FC Ladies 6-1 on Merseyside.
---
19 April 2017
Alty Ladies' manager, Keith Edleston, has kindly forwarded the latest match report on his team, from Manx correspondent Paul Hatton...
Northwich Vixens 0 Altrincham 2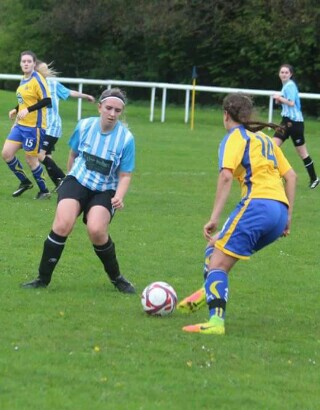 Two well-taken second half goals not only secured Altrincham FC Ladies' eighth league win of the season, but also completed their second league double, defeating Northwich Vixens 2-0 at Lostock Gralam FC.
The first-half performance saw Alty, yet again, dominate but unable to convert a host of chances. Megan Rowley had an effort rebound off the crossbar, Megan Wright fashioned an opening, only to steer her shot agonisingly wide. Jade Hesketh also worked a shooting chance; her acute-angled shot was well saved when there were better options with a cut-back in the penalty area, as the match finished goal-less come the interval.
Above: Megan Wright taking on a Vixens defender.
Half-Time 0-0
On resumption, Vixens were quicker out of the blocks, Alty goalkeeper Lizzie Brereton was forced into making an impressive save and, moments later, the Robins were caught out defensively and saw the hosts narrowly steer a chance off target.
Undeterred, Altrincham worked their way back into the match, kept on pushing and probing, and they were rewarded with the opening goal on 68 minutes. Wright intercepted a free-kick, she passed to Hesketh who, with her back to goal, released an angled pass to Rowley, a player who has made her way through the youth ranks. She ran into space, unleashed an angled shot across goal and saw it nestle inside the far post for her first ever senior goal.
Alty kept on pouring forward and their second goal duly arrived on 88 minutes. Georgia Vernardakis dinked the ball into space on the right, releasing Rowley. Cutting inside, her by-line effort was pushed out by the Vixens' goalkeeper. Kate Bryan reacted the quickest to smash her shot into the top right to secure victory.
With only two league fixtures left and results pending, Altrincham FC Ladies will finish in their highest ever league position since they were formed back in 2011.