ALTY HEADLINES
28 Jul 2017: NEXT OPPONENTS: BRADFORD PARK AVENUE...More
28 Jul 2017: JOB OPPORTUNITIES AT ALTRINCHAM FC...More
OTHER HEADLINES
28 Jul 2017: LIFE AND DEATH AT ALTY: 1902-05...More
28 Jul 2017: STOURBRIDGE STRIKER ON WAY BACK...More
28 Jul 2017: STAFFORD'S YOUNG HOPEFUL...More
---
28 July 2017
Alty travel to Bradford PA on Saturday. When Alty entertained Bradford PA last season in the fourteenth league match of the season, the Yorkshiremen had yet to win a game and propped up the Vanarama North league table. But a win at the J Davidson Stadium kick-started the Avenue's season and they ended the season with more than double Alty's final points tally. Alty also lost the return fixture at the Horsfall Stadium, 2-1.
Bradford PA report that "Park Avenue host Altrincham this Saturday in the final pre-season friendly of the summer. Mark Bower's men are currently unbeaten from five warm-up matches, but will face a stern test from an Altrincham side looking like strong favourites to bounce back to the National League North at the first time of asking this term.
Admission has been reduced for the fixture... Adult entry has been set at just £5 for the match, with concessions £3, students £2 and under-18s just £1. The clubhouse and club shop will be open, so why not come down early, grab a drink, have a chat and maybe have a browse of some of the merchandise on offer in the club shop?...
Unfortunately for this match, the small stand behind the goal will not be open, so supporters are asked not to use this on Saturday. Please be advised that on council instruction, bag searches will now be regularly taking place at the Horsfall Stadium, so where possible attempt to arrive just a few minutes early being wary of potential queues. Avenue's matchday programme will be on sale, a reduced version is on offer for just £1.50, and is available to purchase from the club shop.
This week's programme comes along with the new cover design for the 2017-18 season, notes from manager Mark Bower, and the low-down on all the new faces through the door so far ahead of the new campaign".
In a recent friendly against Farsley Celtic, the Bradford Park Avenue side included several ex-Alty names (in bold): Drench (Hall 71), Toulson, Hill (Trialist 71), Nowakowski, Havern (Brooksby 60), Knowles (c), Trialist (Wroe 60), Trialist (Trialist 71), Trialist (Trialist 60), N.Boshell, D.Boshell (Boyes 46). And, of course, Nicky Clee is also at BPA.
In that match, "Bradford Park Avenue failed to win for the first time in pre-season, as they were held to a competitive 0-0 draw at Farsley Celtic". Of course, we meet Farsley in the league later this year and their line-up comprised McKibbin (Lofthouse 82), Harris (Pollard 69), Baldwin, C.Atkinson, Ellis (c), Clayton, B.Atkinson (Smith 74), Watson, Walshaw, Marshall (Parkin 60), Walker (Gomersall 65)
The local Telegraph & Argus reported that "Defences were on top as Farsley Celtic hosted Bradford Park Avenue in a tough contest...
Avenue lost a key forward before kick-off as Oli Johnson took no further part after the warm-up, with boss Mark Bower reveal[ing] afterwards that this was merely a precaution. Without Johnson up front, Avenue were left to rely on the three trialists in the starting line-up...
Bower said, 'Farsley obviously came into this game not to lose and we set up as an away team as an exercise, so it was never going to be a high-scoring game but it was a good work-out and we've learned a few things. OJ was going to play but we are managing his condition throughout and decided not to risk him. He's a special case really and it's pre-season so we can afford to wrap him in cotton wool'...
His opposite number, new Farsley manager Adam Lakeland, said, 'I was pleased with a clean sheet against a side of their quality and I thought we defended well, especially at the end when they were pushing. They had a lot of the ball but we expected that and they had the better chances. We didn't really threaten throughout but we played well. Our defence was all over the place in the first couple of friendlies but its coming together now.'"
MATCH DAY AND EVENT STEWARDS Altrincham FC are looking to add to their existing team of stewards in preparation for the new season. This customer facing role is vital to support the club's match day function. Training will be provided to anyone who has not held a stewarding position before. For a role description (in MS Word format) please click here. (A text-only version is here).
To apply, please email your CV and cover letter. Alternatively you can post or deliver a paper copy of these to Altrincham FC, J. Davidson Stadium, Moss Lane, Altrincham, Cheshire WA15 8AP marked for the attention of Roger Goodwin, Volunteer Coordinator. The closing date for the receipt of applications has now been extended to Sunday, 30th July 2017.
Also...
Altrincham FC is inviting applications for the posts of...
COMMERCIAL DEVELOPMENT MANAGER & MATCH DAY ORGANISER Altrincham FC is inviting applications for the posts of Commercial Development Manager and of Match Day Organiser. The job descriptions for both positions are here (in MS Word format).
Applicants are invited to send a CV and covering letter by e-mail, to reach the club by 31 July 2017.
Paul Fay, manager of Altrincham FC Youth, has updated us on his team's participation in competitions in Northern Ireland...
"Having just returned back from Ireland, We would like to give an overview of the week! The U11s travelled over to Belfast on Friday 14th July to play in the Taggart Memorial Cup tournament which was held at Rathmore school on Saturday.
The U11s won their group and went through to the semi-finals to play St Patrick's and they won through to the final, playing some lovely football, versus Oliver Plunkett. The match witnessed a display of good passing from both teams and the match remained goalless until the 20th minute when Plunkett took the lead. They went two-up with five minutes to go when Altrincham Reds scored but, unfortunately, time ran out and the match ended up with Plunkett as champions.
The same morning the U12/13s and the U16/17s flew in. Both teams played games in Belfast v St Mary's and County Antrim respectively. All three squads went for dinner at a local restaurant, Goodfellas, before the U11s left for the airport and the other squads went to the hotel for a much needed rest.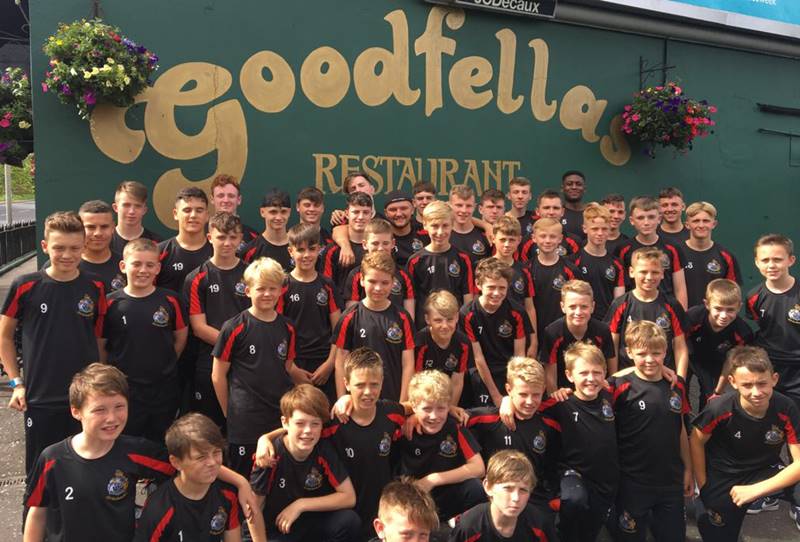 The lads outside Goodfellas, Belfast.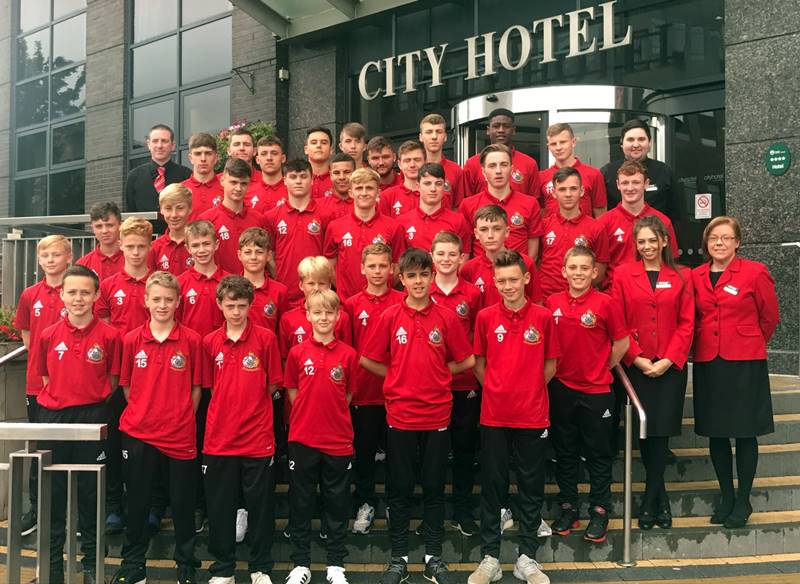 Above: At the City Hotel in Derry
Sunday morning saw the coach-load of players depart Belfast and was Derry-bound to compete in the Foyle Cup.
The U13s' group opponents comprised Maiden City Academy, Donegal Schools and Cabinteeley FC.
The U16/17s, competing in the U19 group, had Foyle Harps, Newbuildings FC and Institute FC as their opponents. The younger group won the quarter-finals of the Shield but took a defeat in the semis, leaving them to compete in the play-off for 3rd/4th place, with great success, finishing third.
Both groups had a tough draw but Altrincham continued to compete well and play some excellent football at times. The older group reached the final of the Foyle Shield and won it.
There are a few people I would like thank for helping to support and organise the trip, including the training sessions for the six weeks leading up to it. Firstly, I would like to thank Sara Newton for the work she put into the trip to make sure everything was organised for the players and coaches! I also want to thank Neil Tolson, Graham Houghton and Aine Conway for all their hard work throughout the week, as well as Grahame and Karen Rowley, Paul Woolley, Sale Grammar School, Bells Gym for all the fitness sessions, Partington Sports Village, Manchester United, Bangor City Academy, Springhead FC, Southport FC, Altrincham FC Reserves, Altrincham Juniors U14 and 12s, Terry Flannagan and referees, Green Hot Clover, SK Kits, Cartwright Group, PFI signs, Paul Raftery, 3q Sports, Aquinas FC - Noel McKee, Rathmore Grammar School, Dunmurray Rec, Anthony Walsh,Co Antrim, St Mary's, Doyle FC, St Pats FC, ,St Oliver Plunkett FC, Cliftonville FC, Rossglass FC, Rosario FC, Beechlawn's Hotel, Belfast, City Hotel, Derry, Copeland Electrics, Keith Tierney, John McCormick, Dee Fitzpatrick.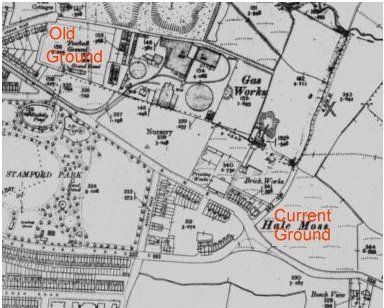 Football is often described as being a matter of life and death but, more than a century ago, the supporters of our football club experienced both extremes in the space of two and a half years.
Fans mourned the football-related death of one of the club's players in 1902 but then enjoyed an unbeaten season at home in 1904-05 which culminated in the Club lifting the championship of the Manchester League which, in turn, prompted a musical parade through Altrincham!
For more on this, click here
Pictured above is a 1910 map of Pollitt's Field where Broadheath played between 1903 and 1910.
Over at Matlock Town "Joint boss Glenn Kirkwood says his Matlock team was 'excellent' despite losing 4-0 at home to a strong Mansfield Town side on Tuesday night. The additional fixture was hastily arranged last Friday at Mansfield's request, with the Stags sending first team squads to both the DCJ Group Arena and to Gainsborough Trinity.
Matlock finished the game with ten men after the 58th minute sending off for midfielder Callum Lloyd with the score at just 1-0 and the Stags' last two goals came in the final three minutes...
'I thought we were unfortunate to be a goal down at half time, we played really well and held our own against a top, top side. We matched them for long periods, they were always going to be fitter than us, and in the end the scoreline was a bit unfair. We've got a lot of good players who are showing what they can do and we're more than happy with the way things are going.'
Last Saturday the Gladiators again did well in a 2-2 home draw with Burton Albion when Craig Hopkins was in sole charge... 'We played really well against a strong team containing several players who have played in the Championship so there 's a lot of positives we can take from the game and our performance', said Hopkins...
Matlock added to their squad after Tuesday's game with their fifth signing of the summer as full-back Ryan Wilson signed on the dotted line. Wilson, the son of former Derby and Chelsea striker and former Ilkeston manager Kevin Wilson was with Alfreton Town last term after joining them from Gateshead...
'Ryan's played very well and is very versatile being able to play at both right back and left back as well as in midfield, he's a fit strong lad who is a very good player', said Kirkwood. 'We're still looking to add a couple more before the season starts.'
The remainder of Matlock's pre season campaign sees them playing non league sides. A much changed line up won 2-1 at Staveley on Wednesday night, fighting back from a goal down to score twice through a trialist and Shaun Harrad late on. They head to Worksop Town on Saturday and Heanor Town on Tuesday. Their final warm up game is at home to Belper Town next Friday...
Cleveland Taylor, Michael Williams and Rory Coleman are all on holiday and will return against Heanor. On the injury front, Adam Yates will need a check after coming off with a leg injury against Mansfield. Marc Newsham (tight hamstring) and Luis Rose (thigh) should have recovered in time to face Worksop."
The Matlock Mercury adds that "Substitute Shaun Harrad hit an 87th-minute winner for a much-changed Matlock Town side... in a 2-1 pre-season win over Staveley Miners Welfare... Matlock deserved the win but Staveley deserve credit for their sharp first half display and repelling long periods of pressure after the break.
Matlock Town: Pierrpoint, Marsden, Wilson (Wiley 46), Jordan, Hunt, Degirolamo, Cribley (14 Trialist 46), Lloyd (Wood 46), Green (Harrad 46), 10 Trialist, Edgson. Sub not used: Barnes".
News & Star says that "Workington Reds enjoyed a winning return to action after nearly a fortnight without a game. Gretna 2008 had taken on the friendly at short notice and, after taking an early lead, went down 3-1. Workington joint-boss Lee Andrews said, 'We hadn't played for a fortnight. It probably affected the way we started but, once we settled into the game, I thought we controlled the ball well and passed it around nicely. I was very pleased with the way we finished the game too, because it showed our fitness levels were good as well. Three of the lads were unavailable for this one...
'We go to Kendal on Saturday and, unfortunately, there will be some absentees again. But, for the last two games, against Penrith and Clitheroe, we should be at full-strength.' Jamie Mellon, from south Cumbria, made a sound home debut at left-back and looked tidy and comfortable on the ball. 'Jamie has come to us on trial and shows the qualities you would expect from a player who has been with Everton Academy,' said Andrews".
From the Stourbridge News we learn that "Stourbridge boss Gary Hackett called for patience over Jack Duggan's recovery but insisted 'his moment will come'. Fans hailed the return of the Glassboys' man-mountain when he emerged as a 65th-minute substitute in Tuesday's 4-1 pre-season victory over Redditch United.
Duggan, scorer of the winning goal in the FA Cup giant killing of Northampton Town in December, required surgery on a dislocated shoulder having been ruled out with the problem at the back end of last season. 'Jack had quite major surgery over the summer,' said Hackett. 'He is on schedule now but we do have to be a bit patient with him. He is a fantastic club man and that did not change when he got injured. He still came to every away game, travelling up to Whitby, Workington and the like. When the going gets tough, Jack is there for you. He has a big character which makes him a leader in his own right and a very important member of the squad. His comeback is a huge bonus but now he has to bide his time, his moment will come'...
Stuart Pierpoint, Brandon Hague, Josh Green and Ryan Rowe netted in a fluent display... Said Hackett, 'We looked like we had goals in us, scored four and looked like we could have had a couple more. That came on the back of a very scruffy and disappointing performance against Stourport on Saturday. We probably needed that Redditch performance as a bit of a tonic and on Saturday, we have another tough match at Alvechurch.
'We have brought in a few new faces, the squad is very strong and we are looking forward to the season now. I am relatively happy with the squad I have... If we take any injuries then maybe we'll have to look at our options. We did our business early and hopefully, we will reap the rewards'".
Meanwhile, from the Staffordshire News comes news that "Staffordshire has recently been drawing quite a reputation for producing previously unearthed footballing gems, illustrated by Stafford Rangers' newest addition... Kai Davis signed for Boro [Stafford Rangers] after impressing in pre-season as a trialist and highlights the recent success of Cohen Bramall, who signed for Arsenal last season, as a reason to join in the hope he can take his game further like the former Hednesford Town man did.
The full-back said, 'It's opened my eyes up to a lot of opportunities that non-league is going somewhere in terms of the football world. Maybe being in the academies and things such as that, it isn't always the route to the professional game. I've listened to interviews on Cohen and he said that he was a player that was in and out of Hednesford and other clubs, and that he was at the highest level that he'd played at, but that gave him the opportunity to go into Arsenal and do big things. That's what I hope in the future to be honest'...
The 20-year-old, who is studying media production at Coventry University, played for Tamworth last season before linking-up with his old teammate Louis Briscoe, who has also swapped red and white for black and white this summer as one of Neil Kitching's summer recruits. He said... 'I went to England Schoolboys trials and things like that but I'd never played anywhere significant... I made an impression on Kitch at the start'...
Aside from the aforementioned Briscoe, Davis also shares an agent with Joe Thomas, who has re-signed for Boro this summer, giving the Londoner some familiar faces in the dressing room".
In the Lancaster Guardian we learn that "Lancaster City's assistant boss has been delighted with the Dolly Blues' attacking play so far this pre-season. The Giant Axe side have scored nine goals in four games as they build-up to the new season, seven coming in Saturday's win over the Isle of Man. Despite drawing a blank against Morecambe and losing out to Barrow 2-1 on Tuesday night, Dave McCann has been encouraged by what he's seen...
'One of the big positives this pre-season has been out attacking play,' said the City number two, who has run the side for the last two games with Phil Brown on holiday. 'We're looking really bright and sharp. We've created opportunities in all our games... but we know we still need to improve in certain areas and we've got three games to work on that.. Our big strength has been our attacking play.'
One reason behind the positive pre-season could be competition for places. A host of new recruits have bolstered City's championship-winning side from back to front... There are still players to come into the reckoning as well with Simon Wills, one of the stars of last season's promotion, yet to get game time in a friendly due to a calf injury...
McCann said, 'Everyone is chomping at the bit... It's difficult to keep them all happy at times. It's tough but competition in the squad is high which can only be good. We've got strength in all areas'.
Heading to Fulwood will see the Dolly Blues come up against former boss Tony Hesketh. City then host Atherton Colleries on Tuesday night before a trip to Bamber Bridge".
The NL Paper reports on a club which competed last season in the Evo-Stik Premier. "It's take three for Ilkeston after the club was purchased from liquidators by Notts County owner Alan Hardy, ending the air of mystery surrounding the future of football in the town. The Robins closed in May when they were wound-up in the High Court. It was the second time inside seven years that the curtain came down following even greater mismanagement.
The new-look club will be called Ilkeston Town, the name of the club before its first closure in 2010 and it will be piloted by Hardy, a successful Nottinghamshire businessman who is also in control at League Two County. The millionaire has brought them them back to life, paying an undisclosed fee, meaning that creditors are likely to see part, if not all, of the old club's debts settled by the former Evo-Stik NPL Premier team.
The remake are to be placed in the Midland League Division One, meaning Step 6 football for a club who used to ply their trade in the Conference North... They will be managed by ex-Nottingham Forest defender Steve Chettle, Ilkeston's former assistant manager, who leaves Nuneaton Town to return to the New Manor Ground.
Hardy said, 'Having grown up in neighbouring Eastwood, I simply couldn't allow one of the East Midlands' finest Non-League clubs' existence to cease when I knew there was a viable method for me to take it forward.... I am absolutely committed to making the club not only self-sustainable, but also competitive and ambitious in aiming to claim a place in the second tier of Non-League football in the medium term... There are very few, if any, other clubs I would rescue.
'As I touched on earlier, Ilkeston are a special case for me personally and, as was the case with Notts County, it would have genuinely hurt me to see them die'. Chettle is the new boss and Hardy added, 'Steve is an Ilkeston and Nottingham Forest legend'".
---
---
27 July 2017
After his release by the Old Trafford club he joined George Heslop's youth team before graduating, via the reserves, to the Altrincham first team for whom he originally signed Conference forms in March 2015.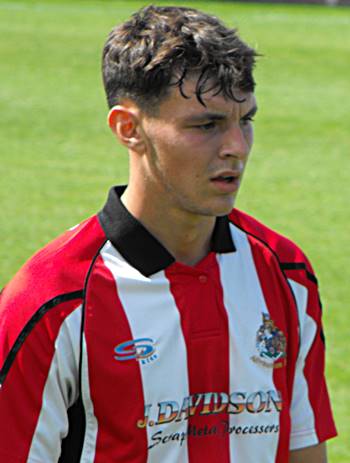 The announcement of the departure of 19 year-old defender Sam Heathcote [pictured, below, at Rhyl last Saturday] concludes four years as a player with the club's youth, reserve and first-teams. The son of former Altrincham player, Graham Heathcote, who was also the manager, club secretary and performed a host of other roles, Sam spent many years as a youngster with Manchester United where he played initially as a striker.
Having been converted to a centre-back in the Alty Youth team, he made a remarkable debut for the first team, coming on as an injury-time substitute against eventual Conference champions Cheltenham Town on 5 September 2015. Within some ninety seconds he had scored the winning goal!
With his opportunities in the first team limited, after making 5(+4) appearances in 2016-17, Sam went on loan to Hyde United. On his return he re-established himself as a regular member of the matchday squad.
Latterly, Sam has become a popular coach with the Altrincham FC community venture. In all he made 32(+19) appearances and scored that one memorable goal.
All at the J. Davidson Stadium wish Sam well in his future playing career.
Altrincham have now completed their home friendlies but three away games remain...
Saturday 29th July: Bradford Park Avenue (A) 3pm, Horsfall Stadium, Cemetery Road, Bradford BD6 2NG
Tuesday 1st August: Winsford United (A) 3pm, Barton Stadium, Kingsway, Winsford CW7 3AE
Saturday 5th August: Trafford (A) 3pm, Shawe View, Pennybridge Ln, Urmston, M41 5DL
Altrincham FC Press and Media Officer, John Edwards, spoke to manager Phil Parkinson after Tuesday night's 2-0 home defeat by Wrexham. Phil explained why he was pleased to see his defence given such a thorough test, provided a positive update on Tom Hannigan and disclosed that centre-back Sam Heathcote has left the club. Here is the interview in full.
Q: Maybe the game showed we're not quite ready to take on all-comers yet, but it was another really good work-out, wasn't it?
A: It was a great work-out. They were at full strength. I know they've had a couple of results they weren't too pleased with, against Nantwich and Warrington, but I'm looking at what they've put out tonight and it won't be too far away from what they start the season with. They were very strong, but I would like to think we competed really well.
I would actually have been disappointed if we had played a Wrexham side and had things all our own way. It was meant to be a test, a game where we could assess where we were defensively, and that is exactly how it proved. We faced a team tonight who were pulling us out of position and were very effective in the positions they got into, particularly the two wingers and the frontline, who were unbelievable. So it was nice to see we could cope with that.
They didn't bombard us. I can't remember Tim Deasy or Tony Thompson (left) having a great deal to do. There were a few snapshots, but it wasn't a case of them peppering our goal. They had a lot of possession, but I would like to think we did as well, even though it was largely in our own half. That was because, as soon as it went into their final third, they were very good, very strong and very fit. That was the biggest difference for me. They were very fit and organised, and you could tell they were a full-time outfit.
But the positive thing for me was the way we continued to play under a lot of pressure. I felt we had a couple of good opportunities, though there was nothing to suggest we should have got something out of the game, in terms of the result. I thought they were worthy winners but, equally, I thought anything more than two goals would have been an injustice. It would hardly have been an injustice if we'd got one ourselves, so all in all I was pleased with the way my players applied themselves and competed with full-time players. It was no rout by any means, and I'm sure their manager will be saying it was a good work-out for them, because we had a lot of good possession.
Q: We should have stayed on terms longer, shouldn't we, because John Johnston was clearly fouled near the halfway line in the build-up to their opener?
A: Yes, we should have had a free-kick for that. As I've said before, I can't influence what the referee does on the pitch by shouting and bawling. It was a clear foul, but we still should have done better when the ball reached our final third. To be fair to the lad who scored, he did really well. I think they got him from Forest Green, so basically he has come from a professional Football League club. That is the calibre of opposition you are dealing with, and he executed it ever so well. We are questioning whether we could have got out to him a bit more quickly, but it all happened so fast.
It's fair to say we are not going to be playing that calibre of opposition on a Saturday, so for our lads it was a case of can you cope defensively but also be brave enough to get on the ball and still play our game? I can take a lot of heart from the fact that we competed and we did play. I would have liked to see us score a goal, because that is what we are all about, and I would have liked to see us keep them out a bit longer. But 2-0 is no disgrace against a full-time Wrexham outfit who were at full strength.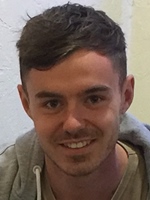 Q: John Johnston (right) hobbled off after being clattered for their first goal - how is he?
A: He came off as a precaution. He has got a niggle, a slight strain. It was a bad tackle, but it's a bit early to tell, and we'll have to have a good look at him to see exactly how he is.
Overall, I was particularly pleased with the defenders. They had to compete physically in the air, and that's something people were questioning about my teams, because we play football. But we competed ever so well. We were not dominated once. We were undone by really quick interplay that was really sharp.
You could tell their manager had given them a bit of a kick up the backside. We knew there would be a reaction from them, and they paid us a lot of respect with the team they put out tonight. That showed we are a team people are taking seriously.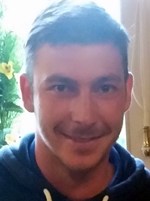 Q: Ben Harrison (left) showed he's comfortable on the ball and can bring it out of defence, but he also demonstrated that old-fashioned quality you want from a centre-half, in that he never missed a header all night.
A: Ben is absolute quality. For me, we are very lucky to have him. He shouldn't be playing at this level. He should be playing much higher, in my opinion, but he is someone we have got contracted at the club now, so he is securely tied down, and I am extremely pleased about that. He is everything I am all about. He's a real honest lad, someone who gets on with things and can take criticism in a constructive way. He is such a good player, and he will score goals as a defender, so it is very pleasing to see him pulling on the red and white shirt.
Q: Would one slight disappointment be the second goal, and the way their player was allowed an unchallenged run to meet the corner with a header into the top corner of the net?
A: Yes, maybe. I think it was one of the midfielders who should have been picking him up, but I'm not going to dig anyone out for it in a pre-season game, especially until I've seen the footage. Maybe a little bit of tiredness affected it, and maybe their lad was that bit sharper and that bit fitter to get away from whoever it was. But I have to accept that, and I said to the players they weren't going to get things all their own way. Wrexham would have been fully aware we beat Chester.
I know Chester are saying they put out a youthful team in the second half, but we absolutely dominated the first half against a very good Conference outfit, and Wrexham would have been very aware of that. You have to give Wrexham full credit, they were very good. But I would like to think they were not that much better than us, so I can see gaps being bridged, especially if we go up with some of these players. That is how I am assessing them. It's not just are they good enough for this level, it's are they going to be able to compete in some of the big FA Cup ties we might land at a higher level?
It is quite pleasing to see we can compete with teams a couple of divisions above us. We are not even at full strength yet, when you think the likes of Tom Hannigan hasn't kicked a ball yet, Sean Miller is still out and Simon Richman is still away. Imagine how much stronger that will make us when they are all available.
Q: Tom Hannigan warmed up again before kick-off - how close is he to playing?
A: Hopefully, and it all depends on how it goes on Thursday, and we will make a decision then on whether he plays Saturday or Tuesday, but hopefully it's coming very soon. We just need to see if he can cope with the training session. I know there is a lot of talk about Tom, because he has come with a big reputation and people are probably desperate to see him on the pitch, but when you've had the injury he has, it is such a delicate one. You can come back too soon and be out all season, and that would be a massive, massive loss. But if we can just be patient and get it right, he could be the best defender in the league. It's all ifs and buts at the moment, so we need to see how he goes. I need to check on Simon Richman, but I think he's due back this weekend or Tuesday. Either way, he's with us again shortly.
Q: You look at some of the runs James Poole makes in incredibly tight situations, and he does get a buffeting, doesn't he? But he just bounces straight back up, so does that encourage you to think opponents might struggle to kick him out of games this season?
A: What you have to remember is there are lads at the level we are at who won't get that close to him. The Wrexham boys were very good at what they did. The two holding midfielders who tended to surround him impressed me a lot and didn't give him an inch. I even said to James to reduce his touches in the first half, because I felt now and again he could have released it a bit earlier and he got caught out. But rather than do that, he just got very strong and very sharp, and he did it ever so more effectively. I thought he was superb in the second half. They really struggled to contain him, and a lot of the time he ended up being fouled.
Lads who run with the ball like that and take contact are going to get the rough side of the game, but they are also very pleasing to watch, and I'm sure Altrincham fans will enjoy watching James taking people on and exciting them. But you're right, there's no doubt anyone setting out to kick James out of a game will struggle to pull it off, because he is tough and he will keep bouncing back up. He has been there, seen it, done it. That is why we brought him here, why I went all out to get him and and why he is one of my marquee signings. He is going to be absolutely massive for us. There are going to be a lot of games where we are relying on James to bring home the bacon, so to speak. He knows that, and he likes it. He thrives on that responsibility. He knows what this club is all about and where it should be, and he wants to be part of getting it back there. He is very focused and determined to do that.
A lot of lads could have dropped down and taken advantage of the name they've got, in terms of the negotiations that go on, but he didn't. He was all about wanting to be part of something special, and that was the big selling point for me.
Q: How are things looking for Saturday, with regards to players who were missing tonight?
A: I think Sam Sheridan is still away on Saturday, so will miss just the two games, but Chris Lynch is back tomorrow. As I said, we'll look at Tom Hannigan on Thursday, but he's nearly ready.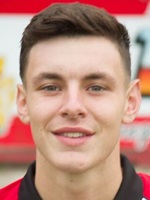 Q: And finally, Phil, there have been one or two whispers that Sam Heathcote (left) may have left. What can you tell us?
A: Sam Heathcote is no longer with the club. He had the opportunity to stay but, what I said to him was basically what I will say to the other lads, in other words, an honest assessment of where they are at currently. I know Sam wants to be playing and starting week-in, week-out, so he made the decision himself to leave the club, to make sure he can progress himself and further himself in the game, and full credit to him for that. He wished everyone at the club every success. He is an Altrincham lad and he wants the club to do well, but he wants to play as well. Hand on heart, I can't say Sam is going to play week-in, week-out at this moment in time, so he made the decision based on the facts I gave him.
There will probably be a few of these conversations over the next few weeks or games, where lads will want to know if they are going to make the squad, and I will need to give them an honest assessment of where I think they are up to, because everyone can see the numbers we've got. We are touching 25 players. It will probably be an 18-man squad, so the numbers don't tally at the moment. That means there may well be other lads who have to make decisions about whether they still want to be here but, as for Sam, he has a lot of potential, without a shadow of a doubt.
When I first saw him against Curzon Ashton, he came on and impressed me straightaway with his technical ability. I have nothing negative to say about him, but the top and bottom of it is I feel there are lads ahead of him at the moment. The nostalgic part of me, because he is an Altrincham lad, wants to keep him here, but the realist side of me that has to be a little bit cut-throat and help Altrincham get promoted doesn't think Sam is the right defender to help us at this moment in time. I would stress that is purely subjective and is just my opinion. I would also stress Sam will be a very, very good defender in the future. He just needs to play, but I can't offer him that right now".
From the Daily Post we learn that manager "Dean Keates has allayed fears over Shaun Pearson's injury after the Dragons' skipper hobbled off towards the end of Wrexham's pre-season win at Altrincham. Pearson went down in a heap as he cleared the ball under pressure from Tomoli Omotola, and was visibly in pain, hammering his fist a number of times on the Moss Lane turf.
It was a disappointing end to an otherwise good night for the Dragons, goals from Marcus Kelly and Chris Holroyd, albeit the last touch appearing to come off a defender, seeing Wrexham seal a win but also their first clean sheet in seven pre-season games.
Keates was quick to play down Pearson's knock, saying, 'It is more of an impact, he is in there and laughing and joking, he is fine. He punched the floor four or five times, but that was more in frustration, so he says, but it is just a knock'...
Tuesday's win was in stark contrast to the disappointing showing the Dragons had delivered days earlier as they crashed to a 1-0 loss at Nantwich Town...And Keates was delighted with the reaction from his side at Moss Lane.
'We asked for a reaction, it was a lot better performance than it was on Saturday, first half especially. We are pleased with how they performed,' said the manager... 'Two very good goals and we created other opportunities, but I thought we moved the ball a lot quicker and with a lot more purpose... Tonight we had the end product (goals)'... 'We have got the [on-oitch] minutes up there and we will go again this weekend [at Chorley]'... It will be another big test for us, like tonight was'".
Over at Leek Town the "Blues lost their latest pre-season friendly by the odd goal in seven at Congleton Town... Once again Leek's management team of Jamie Cullerton and Simon Bell shuffled the pack with another trialist featuring in defence... The Bears went 2-0 up... However Town pulled a goal back shortly before half-time with a penalty from Jonny Higham and then managed to equalise before the break through a header by [ex-Alty youth] Sam Grimshaw"
According to the Yorkshire Evening Post, "It has been all change at Throstle Nest this summer following Farsley's promotion triumph last season, with managers Neil Parsley and John Deacey both resigning in May. Farsley were swift to act, with ex-Curzon Ashton coach Adam Lakeland appointed manager, and Mark Bett appointed as his assistant.
Lakeland has made a plethora of new signings to complement the core group that have remained from last season, with Gibraltar international Adam Priestley returning, and new club captain Danny Ellis signing from Harrogate Town.
The Celts have also been busy establishing their new academy in cooperation with Allerton Grange... Farsley have won two and lost one of their pre-season friendlies so far, a 4-1 defeat coming at the hands of York City, before they won a thrilling game at Eccleshill 4-3. Last week Farsley entertained a Harrogate Town side, with the home side emerging with a 3-1 success, whilst also drawing 0-0 with Bradford Park Avenue.
Players In: Kyle Trenerry, Danny Ellis, James Pollard, Kurt Harris, Isaac Baldwin, Ben Atkinson, Luke Parkin, David McDermott, Adam Priestley. Players Out: Aaron Hardy, Chris Howarth, Aiden Savory, Peter Davidson, Alex Davidson, Ross Daly, Ryan Serrant, Lewis Nightingale."
NL Pitchero reports that "Barrow AFC earned a 2-1 win at the Giant Ace [Giant Axe] against Lancaster City. The Bluebirds hit the Dolly Blues with two quick goals around the 20-minute mark from David Fitzpatrick and Harry Panayiotou. Charlie Bailey halved the deficit on the hour-mark."
And NL Pitchero says that at Coalville Town "Three players have departed the club whilst four more have signed first team forms. Two of the players departing were signings early this summer. Dexter Atkinson agreed to join on a non contract basis but was offered a better deal and first-team football with Belper Town and decided to make the move there after playing in the friendly against Leicester Nirvana for Coalville.
The second depature is left-sided player Ryan Wilson. Ryan signed a contract with Coalville on the agreement the club wouldn't stand in his way of moving back up the football pyramid. What the club didnt expect was that before pre-season started Ryan would make a U-turn and prefer a move to an unamed Conference North club so soon. Ryan played in a friendly match on a trial basis but actually wasnt offered a deal at the end of it. Coalville then made the decision that it would be best if Ryan's contract was terminated due the fact that the management side are building a squad of players that are fully commited to the club and didn't feel Ryan fell into that category.
The third depature is forward Edilson Antonio. Eddy made a real impact when he joined last year but has decided to make a move to local side Loughborough Dynamo for first-team action. Coming into the club is strong defender Ruben Desrosiers who joins from Nottinghamshire side Radford. Ruben has done execptionally well in the pre season games so far...
Another player joining is striker Dylan Garnett after his release from the Burton Albion youth system.... Finally midfielder Jordan Pick and forward Malachi Lumsden have also signed first team forms after orignally starting in the Development squad. Jordan started out at Aston Villa but after being released earnt his stripes with Oadby Town last year... Malachi is a tall rangey forward who had been playing down in London for Wingate. He like Jordan impressed in games for the development squad and the first team in early friendlies".
On the pitch, "Boston United netted three goals after half-time to seal a 3-0 win over Coalville Town. Versatile Mason Warren opened the scoring on 55 minutes... Substitutes Karl Hawley and Ashley Hemmings then struck within the final 3 minutes to add gloss to the Pilgrims' lead.
And, elsewhere, FC United of Manchester edged a seven-goal encounter at neighbours Ashton United... with Yaw Gyimah with two and [ex-Alty loanee] Liam Tomsett on target for the hosts".
---