FOOTBALL TRIALS AT ALTRINCHAM FC, 5 May 2018.
Details

HERE
NEXT FIXTURES:
Sat. 28 Apr. 2018: HEDNESFORD TOWN (Home) 3pm
Tue 1 May 2018: WHALEY BRIDGE ATHLETIC (Home, JDS)
Sun. 29 Apr 2018: HESWALL (Away)
Fri. 27 Apr. 2018: NORTHWICH VIXENS (Home JDS TBC)
---
ALTY HEADLINES
OTHER HEADLINES
27 April 2018
The
Sale & Altrincham Messenger
reports that "The chairman of newly crowned Evo-Stik Northern Premier League champions is hoping promotion will bring a change of fortune to Altrincham Football Club.
Grahame Rowley was speaking exclusively to the Messenger after the club clinched the title with a 2-0 win at Grantham. Mr Rowley is hoping that the promotion back to the National League North(NLN) will turn the tide, which in the previous two seasons saw the team relegated from the National Conference and then from the NLN.
He said, 'We had two relegations and it was a catastrophe for the club, but it is how you deal with relegation, whether you continue to decline or you can work to arrest it and are resolute in getting back up there. We have a strong supporter base and a strong board and we have invested in a decent manager in Phil Parkinson, who knew what was needed and we gave him a budget and he has managed it superbly.'
Mr Rowley, who was vice-chairman from 2002 and chairman since 2010, spoke of the flak he took after the double relegation. He said, 'When we went down, everybody was hurting and the fans were devastated and I personally got a lot of abuse and I am essentially a volunteer like many at the club. When things are going badly, it's sometimes easy to get that loser mentality and it is a test to see how you deal with it and turn it round. We have brought in new people and there is now strength and optimism and it not only good for the club but also for the town.
'You only have to take a walk around Altrincham to see how important this title is and everybody has been talking about it.'
As champions, the club now faces the prospect next season of playing against teams including FC Utd, Blyth Spartans, York City and Chester. Mr Rowley said, 'We have a board meeting coming up at which we will discuss strategy and look at our income streams and, as a club, we have to capitalise on our fantastic success. Equally, it would be great if some of those people in the town could become involved in helping drive the club forward and anybody who would like to volunteer can come and talk to me.'
The leader of Trafford Council, Cllr Sean Anstee, added his congratulations to the team's success saying, 'Huge congratulations are due to Altrincham FC on their well-earned promotion and the whole town will be behind them when the new season starts. Altrincham is thriving with a revitalised town centre, excellent schools, a planned new leisure centre and was recently voted one of the best places to live in the north.
'This promotion adds to the feelgood factor around the town and will help support its continued renaissance'".
Ian Senior of SKkits writes that he has "Limited Edition Home replica shirts available as shwon above. To celebrate winning the league, I have printed my remaining stock of current replica shirts as shown in images, thanks to support from Club Caterer, Richie Bentley. Shirts will be available at Saturday's game at £10 in child sizes and £12 in adults. Sizes available: Child: 20/22 22/24 30/32 32/34. Adult: L XL XXL".
Thursday 26 April 2018
After Thursday's games, the remaining play-off places remain unclear as any three of Ashton United, Grantham Town, Farsley Celtic or Shaw Lane could join Warrington Town in the play-offs. In reality Ashton United are virtually certain of their place in the play-offs as their goal difference is much better than Shaw Lane's and the Ducks can only get level with them on points, at best.
Coalville Town 3-0 Workington (att 120)
Shaw Lane 3-2 Barwell
Stalybridge Celtic 0-5 Witton Albion (att 187)
Stourbridge 0-0 Stafford Rangers (att 368)
Liverpool County FA Senior Cup 17-18 - Final
Marine 0-4 Prescot Cables (att 750)
Saturday 28 April 2018
Altrincham v Hednesford Town
Coalville Town v Rushall Olympic
Farsley Celtic v Marine
Halesowen Town v Stalybridge Celtic
Mickleover Sports v Barwell
Nantwich Town v Stafford Rangers
Shaw Lane v Matlock Town
Stourbridge v Warrington Town
Sutton Coldfield Town v Grantham Town
Whitby Town v Buxton
Witton Albion v Lancaster City
Workington v Ashton United
The manager of Altrincham FC Ladies, Keith Edleston, reports on his side's draw on Wednesday night. "Great result tonight up at Grappenhall Sports Club as the girls shared the points with Warrington Wolverines.
Every time we play Warrington you know you will get a tough, but fair, game with no quarter given and none asked but today the girls were superb.
The attitude and tactics were spot on and the girls gave everything to the cause. An even first half saw the scoreline 0-0 but the fireworks were lit with a superb run down the left by Kye Brown to the by-line where she pulled the ball back for Megan Rowley to open the scoring and make it 1-0 to Alty.
Warrington are a good team and all good teams will have periods of possession. With five minutes to go they pulled a goal back through their striker to make it 1-1 but we still had one more attack in us and, when Megan Rowley sprang the offside trap to beat the keeper and shoot, we thought that was the winner only to see the ball flash inches past the post.
Iam so proud of each and every girl tonight as we took the game to Warrington. Well, it wasn't to be and good luck to Warrington for the rest of the season.
Ont now to Friday, when we welcome Northwich Vixens to Moss Lane in a 7.30pm kick-off and we would love to see you all down there to support the girls.
Starting 11: Paula Alarcon Conde, Aimee Hopkinson, Bliss Molyneaux, Louise Edleston, Georgia Ashton, Kye Brown, Laura Dodds, Gail Simpson, Hannah Shufflebotham, Laura Kelly, Jess Hartopp. Subs: Megan Rowley, Melissa Williams, Beth Hayes".
Unusually on Wednesday all three of Altrincham's senior teams were in action. The first team drew with Marine, the Ladies drew at Warrington and the Reserves drew at Crewe, 4-4. The Reserves now lie eleventh in the league and on 1 May at the J. Davidson Stadium they take on Whaley Bridge Athletic. At the same venue on 4 May, they host Greenalls Padgate St Oswald's.
For the final match of the season, Hednesford Town are the visitors to the J. Davidson Stadium on Saturday (3pm).
Hednesford Town
report that "The Pitmen return home for the final time this season when our attentions once again focus on a cup game as Nuneaton Town visit us in the semi-final of the Birmingham Senior Cup. Following the disappointment of Tuesday evening's narrow 3-2 defeat against Stafford Rangers in the Staffordshire Senior Cup Final we shall be looking to progress into the last two of this competition with Stourbridge waiting for the victors.
It is again a case of facing higher league competition in this trophy, with us already having defeated Tamworth, Solihull Moors and Burton Albion to reach the last four. Nuneaton, who sit comfortably in mid-table in the National League North, arrive here have being forced to play last night following a postponement on Tuesday evening.
Manager Rob Smith will be without Darren Campion, Sam Oji and James Fitzgibbon due to injury. Louis Harris will be back in contention though after being forced to sit out Tuesday evening due to suspension".
Altrincham FC is grateful to all of those supporters who sponsored a player's shirt or shirts this season. These (except the goalkeepers' shirts) are now available for collection from the Club offices, either at tonight's game or subsquently, so please come along and collect yours!
"Altrincham FC's Patrons scheme has been relaunched ahead of the 2018/19 campaign in the National League North after the team gained immediate promotion back into the division.
"We made a big commitment to Phil Parkinson and Neil Sorvel in the 2017/18 season to ensure we could provide them with a competitive playing budget and they have duly produced the goods with automatic promotion. Our thoughts now immediately turn to next season as we continue to look forward.
'With Phil and Neil committed to the club with their recent new contracts, we are now striving to provide them with the best possible playing budget for the new season," said director Rob Esteva. "Subsequently, all monies raised via the Patrons Scheme will go directly on the squad to boost the playing budget for Phil and Neil."
'We already have the forecasts for next season and the playing budget mapped out thanks to Mike Adams's diligent planning but, now promotion has been confirmed, we want to top that figure up and give Parky and Sorvs the best possible chance to succeed in the National League North," he added.
'At the last board meeting, we agreed that any funds raised via the Patrons' Club would go directly to boosting that figure allocated to the playing budget.
'We've been working hard on retaining the management team and squad for next season as well as scouting potential new signings, and supporting the team via the Patrons' Scheme will only enhance our chances further.'
We are looking for supporters to renew or join the Patrons' Scheme for next season which will be the 13th season that it has run.
For the cost of £50 your name will appear throughout the coming season in the matchday programme and on the soon-to-be-launched new website as a Patron of Altrincham Football Club.
At the start of the season, every member will be entered into a prize draw, with the winner being match sponsor for an appointed game along with nine guests. Second prize will be hospitality for five people and third prize hospitality for three people in the Manchester Glass Sponsors' Lounge.
If you are interested in becoming a Patron for next season, please forward a cheque, payable to Altrincham Football Club, for £50. Alternatively, you can pay by card by phoning the office (0161 928-1045). If you require any further information please do not hesitate to enquire by e-mail."
Altrincham FC announces... "So that we can engage with the supporter base we are looking for their opinion on admission prices for next season. We have put together five options, as outlined below, please respond with your choice by
e-mail
or by notifying your choice to the Club office".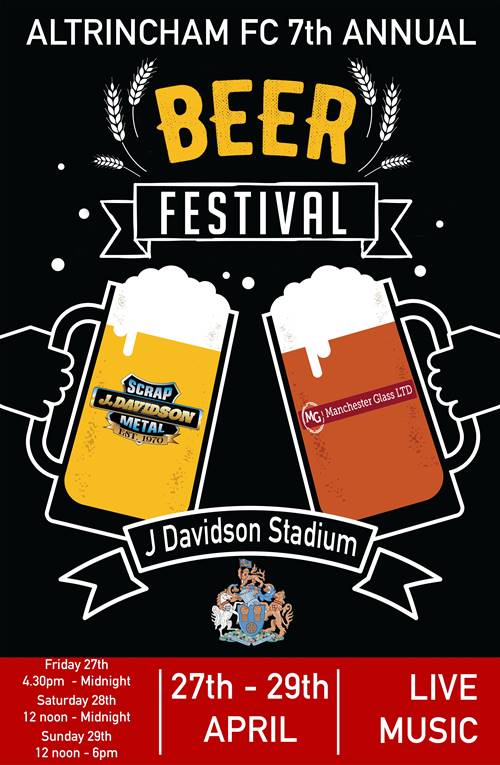 To make the Beer Festival a success, the Club needs volunteers to work on the Real Ale Bar. Available time-slots are:
Friday 4pm-12pm (three-hour shifts 4pm-6pm or 6pm to 9pm or 9pm to midnight)
Saturday 12 noon to 12 midnight ( 12 noon-3pm, or 3pm to 6pm or 6pm to 9pm or 9pm to midnight)
Sunday 12 noon to 6pm (12 noon to 3pm or 3pm to 6pm)
No experience necessary - on the job training provided!.
The
EvoStik League
has belatedly reported on Tuesday night's games, saying that "There was almost a full fixture list in the EVO-STIK League Premier on Tuesday night; almost, as the games at Altrincham and Stalybridge Celtic were postponed, writes Pitchero's Steve Whitney.
Warrington Town's chances of finishing second and a home play-off semi-final draw took a blow when they were held to a 0-0 draw at The Meres by fourth-placed Grantham Town, who could still miss out on the top five if Shaw Lane AFC win their two games and the Gingerbreads fail to at least pick up a point against already-relegated Sutton Coldfield Town on Saturday.
But that draw gave Ashton United an outside chance of pipping Warrington to second place after the Robins won 2-1 at Causeway Lane against Matlock Town. And they had to come back from being a 17th minute Ted Cribley goal down to win too, thanks to John Pritchard five minutes later and then Jack Dyche 13 minutes from time.
Ashton now have to beat Workington AFC on Saturday and hope Warrington lose at Stourbridge; there`s also a one-goal advantage to the Wire should it go to goal difference.
Farsley are fifth and three points ahead of Shaw Lane after a 4-1 success at Wincham Park against Witton Albion. They too had to [recover] from being a 15th minute Paul Williams goal down to win, courtesy of Luke Parkin after 28 minutes and then an Isaac Baldwin hat-trick in the 50th, 56th and 66th minutes.
Shaw Lane maintained their challenge with a best-of-five win at the Weaver Stadium against Nantwich Town. It was yet another game where the eventual winners fell behind, in this case 2-0 down to goals from Jordan Cole after 19 minutes and Matty Bell a minute before the break.
Former Harrogate Town favourite Chib Chilaka pulled the first back for the Ducks on the hour-mark and then Godwin Abadaki equalised 9 minutes later. Two minutes after that, Kelvin Lugsden grabbed the visitors' winner.
Elsewhere on Tuesday, Rushall Olympic also came from being 2-0 down to goals from Lewis Maloney after 34th minutes and Kyle Fryatt 3 minutes into the second half to win 3-2 at the Turnbull Ground against Whitby Town... It was a similar story at the Giant Axe, where visiting Buxton led through Liam Hardy`s 27th minute strike until time added on at the end of the game when Tom Kilifin levelled for the Dolly Blues."
The Yorkshire Post reports "From Bower Fold to his Barnsley debut, it is all in a month's work for Jack Walton. The rookie goalkeeper was the shock name in the Reds' line-up at Nottingham Forest, with his previous league appearance coming for Stalybridge Celtic in their Evo-Stik Premier home game with Warrington Town on March 24.
Recalled by his parent club from his loan after Nick Townsend injured his finger in a training-ground altercation with Dimitri Cavare, Walton found himself in the starting line-up ahead of first-choice goalkeeper Adam Davies in a proverbial baptism of fire.
His display was the sole positive to take from the Reds' poor 3-0 loss and despite a memorable time which saw him impress with some key saves, he would have preferred it if he had been less busy and the scoreline different.
Walton, told on Tuesday morning that he would be starting and now eyeing a home debut against Brentford, said, 'It was a good experience and a big moment to make my debut, although I am disappointed about the result. In the position that the team are in, we needed three points... Being out on loan at Bower Fold has given me some men's football and prepared me for this moment.'"
Altrincham will be members of the Vanarama National League North again next season and the
National League
reports that "There are still a few issues to settle on the final day of the regular Vanarama National League North season. Saturday will decide who makes the final play-off spot and positions for the semi-finals.
The relegation issues have already been settled, so for many it can be an afternoon to enjoy the game, hopefully in the sun!.
Depending upon the outcome of Spennymoor Town`s game in hand against already-relegated North Ferriby United tonight, Bradford Park Avenue may start Saturday`s game outside the top seven and needing a win to have a chance of making the play-offs. Whatever the outcome, Mark Bower has done a terrific job at the Horsfall Stadium, putting a positive chapter on his CV following his dismissal by Guiseley AFC in August 2016...
It`s been a really tough last few weeks for Jason Ainsley's Spennymoor side, who will complete a hugely-tiring ten-game sequence in the month of April with Saturday`s visit of Southport to the Brewery Field.... Victory in tonight`s game against North Ferriby... could see Moors back in the play-off places and maybe only needing a point from the game against a Southport side who dusted off any thoughts of a last-day scrap against the drop with a 4-2 win in the north-east at Darlington last night.
Depending upon tonight's result, Blyth Spartans could still go into Saturday`s game at Nuneaton Town with an outside chance of slipping into the top seven. Blyth completed a run of four home games in a week with a 2-1 win over Curzon Ashton on Tuesday night and travel to a Boro side who shared a 1-1 draw with Boston United last night to end the Pilgrims` hopes of going into the play-offs through the back door".
And the National League also reports that "AFC Telford United boss Rob Edwards hopes the club can go full-time next season to compete at the right end of the National League North. It has been a tough first campaign in charge for Edwards but their recent run of four wins in five games secured their status for next term...
He hopes they will be able to follow the lead of others in the National League North by moving to a full-time model and 'really having a go'. 'Consistently, throughout the season we've had 12 to 14 of the players, a good chunk of the players, in on a Monday and Friday as well,' Edwards told the Shropshire Star. 'We get an hour or so of training in on those afternoons, which is great. The ideal thing for me would be to go full-time and really have a go. Obviously that's a bit budget-dependant. Hopefully, we'll be sitting down and having some meetings in this next week, seeing where we're going to be at.
'I'd love that to be the case and I'd love to be able to announce it, but we're not there right now. What I will say is that there is a real nucleus, a tight group there, who have been getting results at this level under real pressure. I don't think we're a million miles away from a real half decent team.'"
One team with whom we will be swapping places is the subject of a report in the Birmingham Mail which tells us that "Connor Taylor reflected on one of the worst days in Tamworth FC's history and says the club must repay fans with an instant return to the National League North. Former Aston Villa youth Taylor was named Player of the Year by supporters prior to the 4-3 home defeat to Chorley which proved the final nail in the coffin for the Lambs relegation fight.
'I can't really find the words to talk about it really,' said Taylor after the defeat. 'I've been here for five years overall, once on loan and then for the past four seasons. I started here in the league above, the Conference Premier, so for us to be now going into the league below, it's just a dark, dark day for Tamworth FC. It's arguably the worst day in the club's history. It's the fans I feel most sorry for,' he added. 'They pay their money every week and they even pay some of the players through Team Builder.'
'We have let them down and so they have got the right to scream at us as much as they like after what has happened.'
Taylor expects big changes to the playing staff in the summer but hopes Mike Fowler will have the chance to turn things around. 'Mike has worked his socks off,' said Taylor. 'I can't say how much overtime he's put in, watching games, putting clips together, giving tactical information, trying to instil passion into the group. It's the lack of passion, quality and fight from the group that has let us down. For that reason, it's the squad which needs an overhaul. Some lads will escape and probably go onto better things that they don't deserve but the club needs to make a statement of intent in my opinion. We have to show ambition, go straight at it next year. We have to promise to give the fans special days in the future to shout and cheer about.'"
York City's status next season is not yet finalised as they could sneak into the play-offs but, lying tenth, they look likely to remain in National North. From there, York Press reports that "York City boss Martin Gray intends to transfer-list some of the 12 players that are contracted to the club beyond this summer. Adam Bartlett, Hamza Bencherif, David Ferguson, Simon Heslop, Josh Law, Adriano Moke, Sean Newton, Jon Parkin, Dan Parslow, Daniel Rowe, Vinny Steels and Ryan Whitley all have deals on the table to stay with the club next season.
Defensive trio Bencherif, Law and Parslow signed one-year deals last summer but it is understood that they now have the option of a second season after reaching an agreed number of appearances during 2017/18.
Ten players, Louis Almond, Connor Brown, Aidan Connolly, James Gray, Clovis Kamdjo, Alex Kempster, Michael Rankine, Luke Simpson, Connor Smith and Theo Wharton, have terms that expire at the end of this season, while injured on-loan midfielder Alex Pattison has returned to Middlesbrough.
Jonny Burn and Raul Correia will also go back to their respective parent clubs Bristol Rovers and Blackpool, following this weekend's final game of the regular National League North season at Brackley.
Second-year scholar Flynn McNaughton, meanwhile, will be among those hoping to be offered pro terms after making three first-team appearances from the bench during the last month. No announcements on players' futures will be made until next week, but Gray warned 'Some of those contracted players will be put on the list, because things have got to change. If you're honest with yourself, you know if you've done enough this season and the club needs to rebuild from the ground again. The fans are dying to be the 12th man here and some players don't know how lucky we are to have that fan base.
'I want a fantastic changing room next season full of honest players who will give everything and every player who comes back after the summer will be told what condition I expect them to be in and what weight they need to be, because we've got to have the fittest squad in the division next season.'
Gray went on to confirm that Kamdjo, who has only managed one substitute outing this term following his return from cruciate and anterior knee ligament damage in November 2016, would be handed an opportunity to prove his worth in pre-season and he also looks set to feature at Brackley. 'He's somebody I can trust and the one person at this club I'd want to go to war with, because he's an honest lad and that's what we want on Saturday,' Gray said of Kamdjo...
Gray is already in an advanced stage, meanwhile, with certain transfer targets and pointed out that recruiting a left-footed centre-back and boasting two potential 20-goal forwards in his squad are chief priorities for 2018/19."
And Lincolnshire Live tells us that former Shaw Lane manager and current "Boston United boss Craig Elliott praised his players for taking their play-off fight to the penultimate game of the season but admitted there was a sense of disappointment that their top seven hopes were all-but over. Only a mathematical miracle can now move the Pilgrims into the play-offs on the final day of the season following Wednesday evening's 1-1 draw against Nuneaton Town...
'It's a credit to the players to take it as far as we have done,' said Elliott... 'You have got to be honest and we have come up just short. That's about right really and I always felt we would... I think the players were believing their own hype. Just because they had beaten Harrogate and Salford did not mean they did not have to do all the dirty work, winning headers and tackles and moving the ball quickly. We were too laid back and it was a case of getting ourselves grounded again, which we did after half-time.'
Wednesday's match [v. Nuneaton] took place 24 hours later than scheduled, and at a different venue, following electricity problems affecting Boro's Liberty Way stadium. Alfreton Town played host to the fixture but, with just 154 fans watching on, Elliott was far from happy with the circumstances behind the re-arrangement. 'It's something that does not sit well at this level of football', added Elliott. 'It should not happen in my opinion. The atmosphere from the Boston fans was fantastic but it lacked something because it was not at Nuneaton's home ground and there was no intensity.'"
---