ALTRINCHAM FC YOUTH (Under-18s)
---
Altrincham's Youth side is managed by Paul Fay, assisted for 2017-18 by Sam Heathcote and Graham Houghton. The team plays in the North West Youth Alliance (Under-18s) Premier Division.
Altrincham FC Youth currently (November 2017) play their league and league cup games at  Manchester Health Academy M23 9BP
FA Youth Cup games are played at Moss Lane. Altrincham & District FA games are usually held at Trafford FC, Shawe View.
---
NEWS
25 March 2018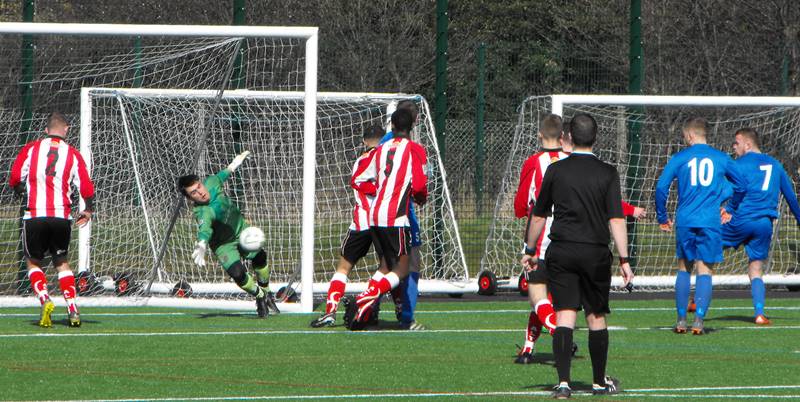 Altrincham FC Youth's scheduled NWYA Premier game at home to Southport on Sunday was cancelled at short notice when the National League club was unable to raise a team for the match.
Above: Alty goalkeeper Matt Loizou in action against Irlam Town on Sunday.
Alty Youth manager, Paul Fay, hastily arranged a friendly instead, pitting his under-18 side against the under-21s of Irlam Town. Experience told, as the Irlam team won 8-1 on the artificial surface at the Wythenshawe Health Academy at Moor Road, Baguley. Despite the heavy defeat the Alty lads will have learned a lot from their older opponents.
Match report here.
---
11 March 2018
On Sunday, Altrincham FC Youth won 2-1 at Ashton Athletic and now lie in third place in the Premier Division of the NW Youth Alliance Premier Division.
Next Sunday, in the North West Youth Alliance Open Cup, they are away to St Helens Town. Should they win this tie, they would play the winner of the Heswall FC v Witton Albion FC match which also takes place next week.
---
25 February 2018
Next Sunday, 4 March, Altrincham FC Youth are away to St Helens Town in the North West Youth Alliance Open Cup.
---
11 February 2018
On Sunday, Altrincham FC Youth lost 0-3 at home to NWYA Premier leaders, Chester FC. The lads drop to third as Curzon Ashton moved ahead of them following their 3-1 win at Nelson.
Next Sunday, Altrincham are away to AFC Fylde.
---
4 February 2018
Today's Youth team game against Ashton Athletic has been postponed. Instead, the under-18s have arranged a friendly match at noon at their home ground (Manchester Health Academy, Baguley), which will be followed by an under-17s fixture at the same venue.
---
28 January 2018
Today's Neil Thomason Trophy match against Hyde, at Ewen Fields, is off as the Tigers cannot raise a team. Therefore, Altrincham have been awarded a walkover and now meet the winners of Curzon Ashton or Southport in the semi-final Alty Youth's next scheduled match is away at Ashton Town next Sunday but, as with all NWYA fixtures, it may be subject to change.
---
21 January 2018
Altrincham FC Youth won 3-1 at home to Southport in the North West Youth Alliance Open Cup on Sunday. Their next fixture, on 28 January, is home to Hyde United in the Neil Thomason Cup at Ewen Fields (2.30pm).
---
7 January 2018
Altrincham FC Youth won 4-2 at Chorley on Sunday and are second in the NWYA Premier, although they have played more games than their rivals. Next up on Sunday (14th) is a home match against Curzon Ashton FC Youth at Manchester Health Academy M23 9BP.
---
3 December 2017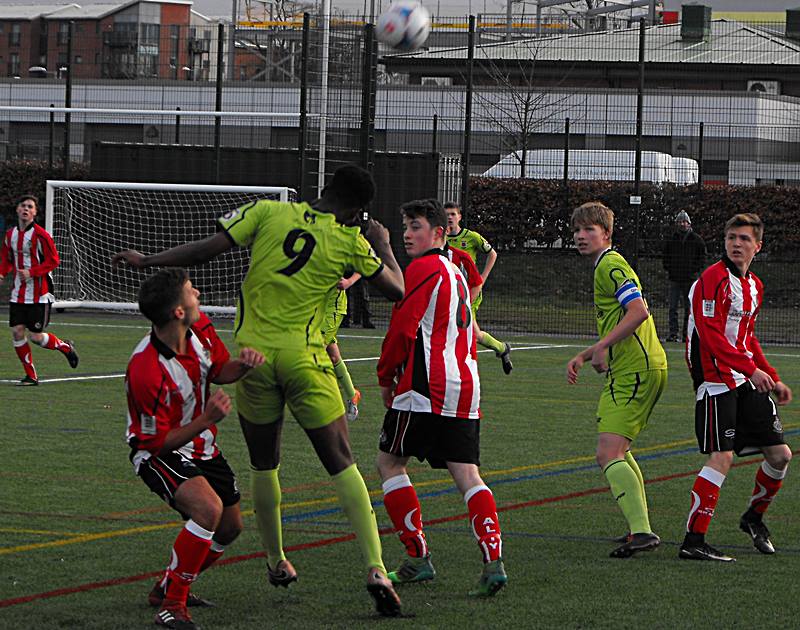 Above, left to right: Alty's Will Hall, Fegrus Grogan and Reiss Hughes in action against Chorley on Sunday, with five-goal striker Bailey Richardson in the background.
On Sunday there was a comprehensive 7-1 win for the Youth team in the Neil Thomason Trophy. A report on the game is here. The next youth fixture is currently listed as being on 17 December, at home to Southport in the North West Youth Alliance Open Cup, Round Two.
---
26 November 2017
On Sunday, Altrincham Youth beat Hyde United Youth 5-2. Their next fixture on Sunday, 3 December, is at home to Chorley in the North West Youth Alliance Neil Thomason Cup. Alty are now second in the league though others have games in hand.
---
12 November 2017
Next Sunday (19th), Alty Youth are away at Prescot Cables.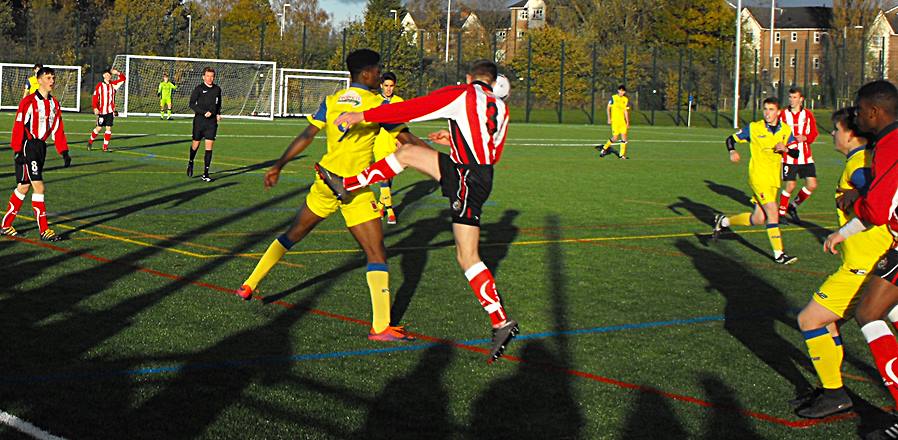 Above: James O'Hara heads clear in the match against Chorley.
In their first match on the 4G pitch at their new home at Manchester Health Academy, Altrincham Youth deservedly overcame Chorley 2-1 after falling behind against the run of play in the first half. Dylan Scanlan equalised with a well-taken goal before Elliot Coleman skilfully netted the winner for Alty.
Match report here.
---
---
6 November 2017
In a game of numerous chances for both sides, Alty Youth lost 6-0 away to Southport on Sunday.
Next Sunday sees Altrincham Youth play their first league fixture at their new home at Manchester Health Academy, Baguley, M23 9BP.
The opposition is Chorley and kick off is at 2.30pm.
---
29 October 2017
Altrincham FC Youth won 5-0 away at Stockport County on Sunday. In their next game they are on the road again, at Southport.
---
20 October 2017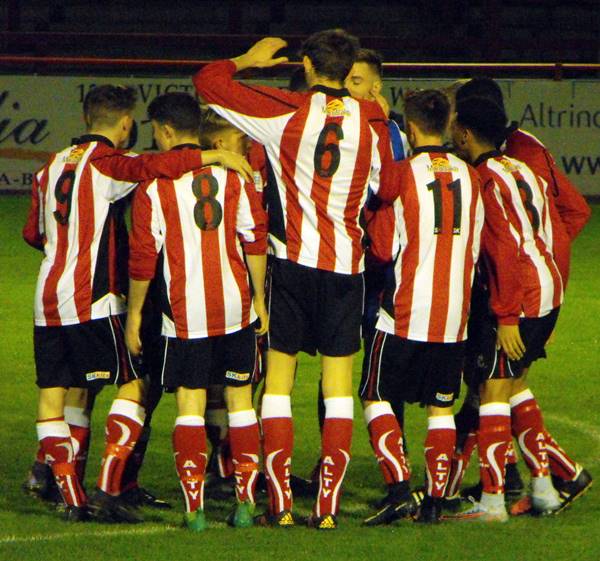 Above: Altrincham hold a pre-match huddle.
With a 3-1 win over Altrincham, Chester FC earned an away tie at Hartlepool United in the FA Youth Cup. The visitors took a seventh-minute lead when a long throw by Hellawell led to the ball bouncing up against Calvin Boyd's hand. Though any intent on the part of the Alty captain was doubtful, a penalty was awarded and Downes beat Terry from the spot.
Altrincham equalised ten minutes later when Curtis Miller got to a loose ball ahead of a Chester player before going on to beat the Chester keeper with a dipping shot from the edge of the box.
Five minutes before half-time, another long-throw by Hellawell produced the second Chester goal. From the throw, Dickinson's back-header looped over Terry and off the underside of the crossbar, into the net.
In a second half largely played in heavy rain, Chester made it 3-1 in the 59th minute when Dobson was allowed an unchallenged header from a left-wing corner. After that, Alty rarely looked as if they could get back on even terms as Chester deservedly advanced to the First Round Proper.
Match report here
---
18 October 2017
On Friday (20th) Altrincham take on Chester FC in the FA Youth Cup 3rd Round Qualifying match at the J Davidson Stadium, Moss Lane, Altrincham WA15 8AP. Kick off is at 7.45pm. All spectators are very welcome. Admission is just £3 for adults and £1 for all concessionaries.
Following this Friday's match, the scheduled match on Sunday (22nd) at home to Chorley FC has been postponed. Subject to confirmation, on 29 October, Altrincham are away to Stockport County in a league match.
---
15 October 2017

Above: Alty line-up against Stockport County
Altrincham Youth gained their first league win of the season with a 2-0 win over Stockport County at Flixton on Sunday afternoon. Alty took the lead with a 27th minute penalty awarded for hands against the visitors' left-back. Bailey Richardson converted the spot-kick.
Nine minutes into the second half Cameron Terry conceded a penalty when he fouled County's no.15 after he had been put clean through on goal and the Alty keeper was fortunate to escape without even a caution. Terry then went on to save the spot-kick.
After County had spurned several other chances to equalize, Altrincham confirmed their win when centre-back Ollie Okunowu volleyed home a Miller corner ten minutes from time.
Match report here.
The NWYA and FA confirm that Dylan Scanlan has received a two-match suspension for his red card last week (15/10/17 to 22/10/17) for alleged "use of offensive, insulting or abusive language".
Following this Friday's FA Youth Cup 3rd Round Qualifying match at the J Davidson Stadium against Chester FC, Alty are scheduled to play next Sunday (22nd) at home to Chorley FC at Valley Road, Flixton, M41 8RQ in the North West Youth Alliance Neil Thomason Cup Round One. On 29 October, they are away to Stockport County in a league match.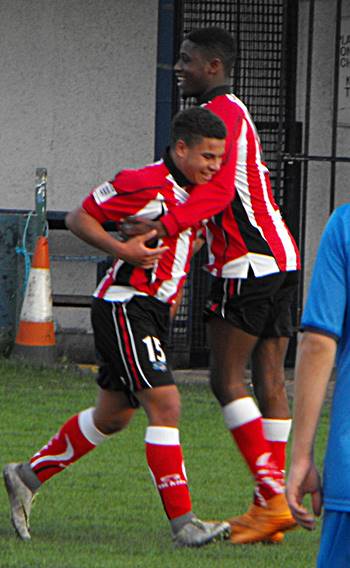 Above: Ollie Okunowu celebrates his goal.
---
9 October 2017
Following their 3-1 win in the FA Youth Cup at Bootle last Thursday, Altrincham FC Youth have been drawn at home to Chester FC in the Second Round Qualifying. The match will be played in week commencing 16th October at the J. Davidson Stadium.
---
8 October 2017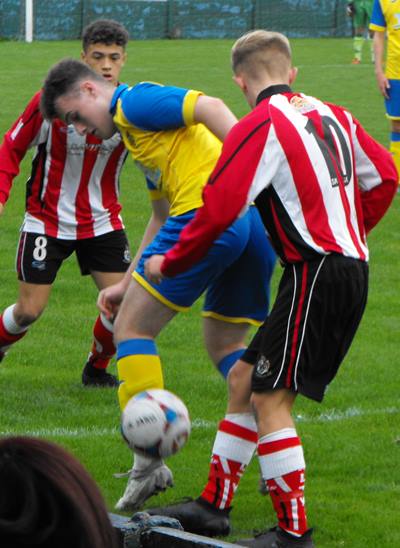 Above: Calvin Boyd (no.10) and Harry Sheridan in action against Ashton Athletic.
Altrincham FC Youth played their third game in a week on Sunday when they entertained Ashton Athletic at Flixton FC. Following their excellent 3-1 win at Bootle in the FA Youth Cup, they drew 1-1.
Having taken the lead in the 43rd minute when Calvin Boyd netted a low cross from the right, Ashton equalized almost immediately when their number 11 was left unmarked to convert a freekick taken from barely inside the Altrincham half.
The second half saw Altrincham largely on top but the game ended in bizarre fashion when, first, Alty's Dylan Scanlan was shown a straight red card for reasons that were far from clear, three minutes from the end of normal time. And, then, the visitors' no.8 also saw red during added time, once more for reasons that baffled the spectators. In addition five yellow cards were produced by the referee.
So, despite their fine win in midweek in the FA Youth Cup, Alty Youth are left seeking their first league win of the campaign, after five matches. Next Sunday, they entertain Stockport County.
Report to follow.
---
6 October 2017

Above: Altrincham line up before kick off at Bootle.
Altrincham FC Youth deservedly progressed in the FA Youth Cup Second Qualifying Round on Thursday night with a win that was a little more comfortable than the final score suggested, as Bootle's second goal arrived with virtually the last kick of the match. On a windy night on Merseyside, Alty had an early blow when Bracegirdle had to be replaced following a poor challenge by Heard.
However, Altrincham took a 34th minute lead, thanks to a well-taken goal by Miller. Sheridan then headed home a Grogan corner to double the advantage, after 51 minutes, but the hosts pulled a goal back in the 69th minute when Heard scored.
Altrincham recovered their two-goal lead when substitute Hussein finished well after good work by Boyd (72 mins). Bootle's Quayle lobbed Alty keeper Terry in the third minute of added time to make it 2-3 but the hosts had no time to apply any further pressure before the final whistle.
Match report to follow...
---
2 October 2017
A headed goal from a corner, in the fifth minute of added time, by left-back Jamie O'Hara earned Altrincham Youth a deserved draw at home to AFC Fylde on Sunday afternoon, at Valley Road, Flixton.
Altrincham had fallen behind in the 21st minute when a back-pass to the keeper fell short and Fylde's no.7 slipped the ball to his right where their centre-forward scored into the unguarded net.
Match report here.
The Youth team's next outing is on Thursday night when they travel to play Bootle in the FA Youth Cup.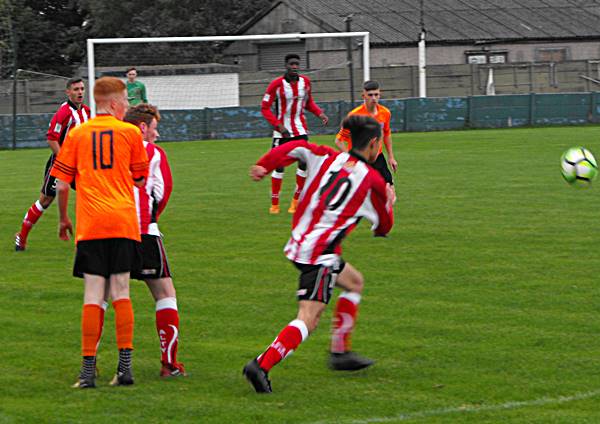 Above: Alty move into the Fylde half during the first 45 minutes.
---
---
28 September 2017
Altrincham FC Youth travel to Bootle in the F.A. Youth Cup, 2nd Round Qualifying.
Contrary to information received by the website yesterday the match is now set for Thursday, 5 October at 7.45pm
. All support for the lads will be greatly appreciated.
---
24 September 2017
Altrincham FC Youth lost 2-1 away to Curzon Ashton on Sunday and lie ninth in the NWYA Premier Division with games in hand. Their next league fixture is on Sunday, 1 October, at home (Flixton) to AFC Fylde who, like Alty, are looking for their first points of the season.
---
22 September 2017
Altrincham FC Youth have been drawn away to Bootle in the F.A. Youth Cup, 2nd Round Qualifying, with the game scheduled to be played during week commencing October 2nd, unless mutually agreed otherwise
---
19 September 2017
Altrincham FC Youth have been awarded a walkover and so will not now play Ashton United in the FA Youth Cup on Wednesday evening. Ashton were unable to raise a team.
Altrincham lost 5-2 at Hyde last Sunday. After trailing 3-0 at the break, Hughes and Scanlan were the Alty scorers in the second half.
The Alty team was Matthew Loizou (gk), Calvin Boyd, Harry Bracegirdle, Fergus Grogan, William Hall, Reiss Hughes, James O'Hara, Olaminde Okunowo, Dylan Scanlan, Harry Sheridan, Connor Tolan. The substitutes were Craig Barnett, Max Mckoy-Lewens, Bailey Richardson, Dylan Staves-Footitt and Sean Walker.
---
3 September 2017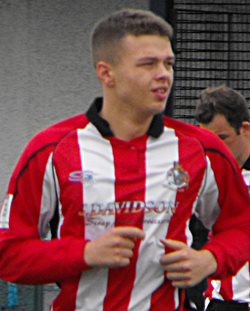 Altrincham Youth's first home game of the season today at the former Flixton FC ground in Valley Road ended on a sad note as the game had to be abandoned following a broken leg suffered by Alty winger Joe Mather (above). Altrincham were trailing 0-2 in the 54th minute when Joe went in determinedly for a 50-50 ball and it was immediately obvious that he had suffered a serious injury. Joe was not moved from the pitch and, after half an hour, an ambulance arrived. A further half an hour later he was inside the ambulance awaiting departure to hospital. At that point it was agreed that the match be abandoned and replayed at a later date.
All at Altrincham FC wish Joe a full recovery from his injury.
There is a report on the match, here.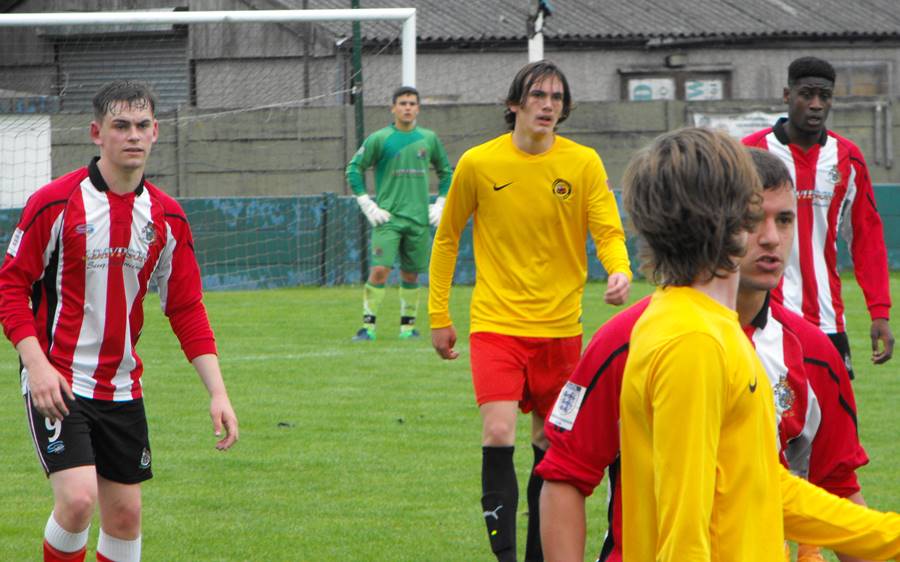 Above: With keeper Matt Loizou in the background, left to right we see Alty defenders Connor Tolan, Will Hall and Ollie Okwundu during the first half against Prescot Cables.
---
24 August 2017
As previously reported, Alty Youth lost their opening match of the season, 5-1 at Chester FC.
Chester FC
report that "Three goals in the opening thirteen minutes saw Chester FC Youth begin with a victory in their NWYA Premier Division opener, with a comprehensive win against Cheshire neighbours Altrincham.
A Lloyd Marsh-Hughes brace along with goals from Iwan Murray, Danny Hardman and James Cottrell saw the Young Blues seal three points on the opening day of the season... It took just 90 seconds of the new season for Lloyd Marsh-Hughes to open his account, firing home from the penalty spot after Rhain Hellawell was dragged down in the area. The opener appeared to stun Alty, Marsh-Hughes doubling his account just four minutes later, nodding Iwan Murray's free-kick into the far corner of the net at the near post.
The Blues' confidence was growing and the third goal was added in breathtaking circumstances. Rhain Hellawell's throw-in made its way into the penalty area, Iwan Murray's spectacular overhead kick fired the ball into the top corner of the net to the delight of all in attendance.
Altrincham were now finding a foothold in the game and pulled one back just before the half an hour mark, a loose ball on the Altrincham left was never really dealt with and was pulled back across the Chester penalty area to be slotted beyond Gale in the Chester goal, despite Ryan Dobson's attempt to clear on the line.
Chester clinched the final goal of the half, however, to put their advantage at 4-1. Alty failed to clear a bouncing ball in the penalty area, Danny Hardman finding the net at the second attempt.
The second half didn't ever produce the entertainment value that the first half had but James Cottrell's goal was the pick of the action in the second fourty five minutes... Dobson saw his headed effort saved towards the end of the half but there was little to report in a game that had appeared over inside the opening quarter of an hour".
20 August 2017
The
North West Youth Alliance
reports that Altrincham FC Youth lost their opening league match of the season 5-1 away to Chester FC. Other results were:
Ashton Athletic 1 Southport 5
Curzon Ashton 4 AFC Fylde 2
Stockport County 0 Nelson 12
Other teams in the Premier Division this season are Chorley, Hyde United and Prescot Cables
Alty's next league fixture is at home to Prescot Cables at Flixton Football Club M41 8RQ next Sunday.
In the NWYA Open Cup, Alty are at home on a date TBC to Southport and in the Neil Thomason Cup they entertain Chorley.
In the FA Youth Cup First Qualifying Round, to be played in week commencing Monday 18 September, Altrincham will be away to either Ashton United or Chadderton.
27 July 2017
Paul Fay, manager of Altrincham FC Youth, has updated us on his team's participation in competitions in Northern Ireland...
"Having just returned back from Ireland, We would like to give an overview of the week! The U11s travelled over to Belfast on Friday 14th July to play in the Taggart Memorial Cup tournament which was held at Rathmore school on Saturday.
The U11s won their group and went through to the semi-finals to play St Patrick's and they won through to the final, playing some lovely football, versus Oliver Plunkett. The match witnessed a display of good passing from both teams and the match remained goalless until the 20th minute when Plunkett took the lead. They went two-up with five minutes to go when Altrincham Reds scored but, unfortunately, time ran out and the match ended up with Plunkett as champions.
The same morning the U12/13s and the U16/17s flew in. Both teams played games in Belfast v St Mary's and County Antrim respectively. All three squads went for dinner at a local restaurant, Goodfellas, before the U11s left for the airport and the other squads went to the hotel for a much needed rest.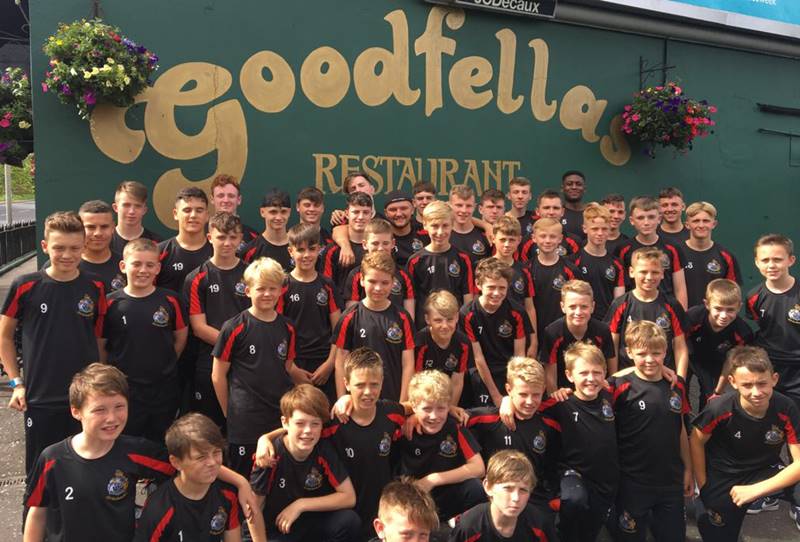 The lads outside Goodfellas, Belfast.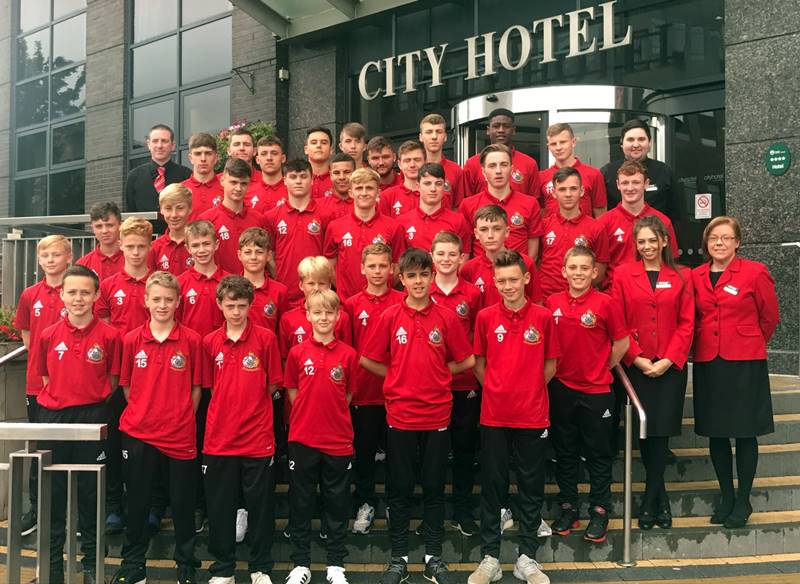 Above: At the City Hotel in Derry
Sunday morning saw the coach-load of players depart Belfast and was Derry-bound to compete in the Foyle Cup.
The U13s' group opponents comprised Maiden City Academy, Donegal Schools and Cabinteeley FC.
The U16/17s, competing in the U19 group, had Foyle Harps, Newbuildings FC and Institute FC as their opponents. The younger group won the quarter-finals of the Shield but took a defeat in the semis, leaving them to compete in the play-off for 3rd/4th place, with great success, finishing third.
Both groups had a tough draw but Altrincham continued to compete well and play some excellent football at times. The older group reached the final of the Foyle Shield and won it.
There are a few people I would like thank for helping to support and organise the trip, including the training sessions for the six weeks leading up to it. Firstly, I would like to thank Sara Newton for the work she put into the trip to make sure everything was organised for the players and coaches! I also want to thank Neil Tolson, Graham Houghton and Aine Conway for all their hard work throughout the week, as well as Grahame and Karen Rowley, Paul Woolley, Sale Grammar School, Bells Gym for all the fitness sessions, Partington Sports Village, Manchester United, Bangor City Academy, Springhead FC, Southport FC, Altrincham FC Reserves, Altrincham Juniors U14 and 12s, Terry Flannagan and referees, Green Hot Clover, SK Kits, Cartwright Group, PFI signs, Paul Raftery, 3q Sports, Aquinas FC - Noel McKee, Rathmore Grammar School, Dunmurray Rec, Anthony Walsh,Co Antrim, St Mary's, Doyle FC, St Pats FC, ,St Oliver Plunkett FC, Cliftonville FC, Rossglass FC, Rosario FC, Beechlawn's Hotel, Belfast, City Hotel, Derry, Copeland Electrics, Keith Tierney, John McCormick, Dee Fitzpatrick.
---
7 May 2017
Altrincham have been given a walkover in the FA Youth Cup Preliminary Round as their prospective opponents, Bamber Bridge, have withdrawn. The draw had dealt Alty a home tie against the Lancastrians in a game to have been played in week commencing 4th September.
Alty therefore progress to the First Qualifying Round, to be played in week commencing Monday 18 September. In that round, Altrincham will be away to either Ashton United or Chadderton.
Altrincham FC will again be sending a youth team to compete in the Foyle Cup, sponsored by Hughes Insurance, which takes place annually in Derry, Northern Ireland. News of their games in this year's tournament will be posted here on the website. The competition runs between Monday 17th July and Saturday 22nd July.